Following what has been a very busy year, CWU's North West Regional Chair, Carl Webb; has published his 'end of year' report!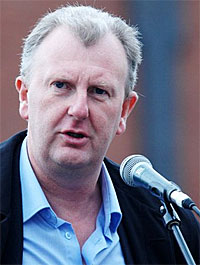 The full report is downloadable via the link at the end of this brief article or by clicking on the pic below.
Suffice to see, readers will no doubt give this report of the Regional Committee's activities throughout 2015 a 'gold star' and nowhere will you read the comments – 'must do better' !
In his opening remarks to the report, Carl writes:
"As always, I would like to begin by thanking the Regional and Branch Officials for all their hard work and support throughout the year. 2015 was a year that proved to be quite challenging, and at times, disheartening for us and the movement – and if the first month of 2016 is anything to go by, we are in for one hell of a scrap both industrially and politically.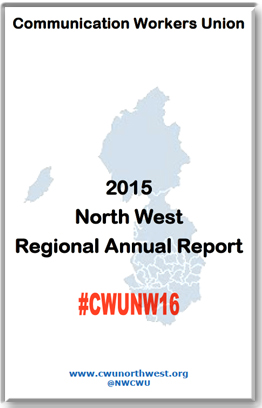 All of the Regional sub-committees have worked tremendously hard on behalf of Branches and for their members, and I would again ask that all Branches make it a priority in 2016 to not only support the work of these committees, but importantly to ensure that they send delegates to the meetings.
As you have come to expect, the North West Region was at the forefront of promoting and supporting the CWU's industrial and political campaigns.
We should all be very proud of the fact that we are seen as one of the most effective and pro-active regions and I hope we can continue to build on this going forward."
Throughout 2015 the region actively engaged with numerous campaigns, attending conferences, rallies, organising stalls and publicity material regarding these highly crucial issues facing the CWU and its members:
Trade Union Bill
BT Openreach site rationalisation
Peoples Post Campaign
Peoples Post Rally at Manchester Cathedral
Delivering superfast broadband
General Election
Labour Leadership Election
Oldham By-Election
TUC Demo Tory Party Conference
Postal Workers Day
Raising Awareness of Unfair Competition – Parliamentary Event
NW Labour Conference
NW TUC Conference
The North West held the first ever CWU Regional Conference
Organise appeal for CWU members effected by the floods
Refugee Appeal
The full report can be downloaded in pdf format here
Source: CWU NW regional Committee