The CWU Northwest Regional Equality Leads are running an event celebrating Women of Today and we would like to invite you to join us.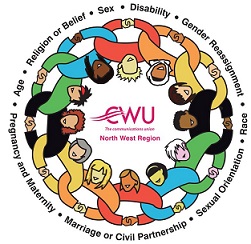 Lunch will be provided. (Please let us know if you have any special requirements)
We have a wonderful array of speakers, including…. Cllr Anna Rothery (Liverpool Lord Mayor), Alison Hughes (Assistant Director Information and Communications Technology (CIT) ), Jasmine Fernley (Trade Union Congress), Lindsey England, Just a ball Game….Each of the women you will meet give their time and effort to do what they believe in and they continue to be an inspiration to us all.
This event will be held on Thursday 26th March from 10am-3:30pm at the Mechanics Centre, 103 Princess St, Manchester M1 6DD
This is primarily designed as a women's event but all are welcome.
This is the fifth event we've run and feedback has been really good with everyone having enjoyed the previous days.
Why not come along and see a side of the CWU you may not have seen before and meet some amazing people along the way! If you want to bring a friend, that's OK as long as you both register for a ticket
To book your place go to: https://www.eventbrite.co.uk/e/cwu-women-of-today-2020-tickets-90770387673
Download poster WoT Poster
If you have any questions or want to know more, ring, text or WhatsApp Sheila Biggins, North West Regional Women's Lead on 07935 497021.
Posted: 27th February 2020