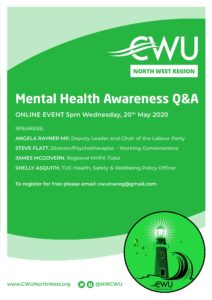 As a region we asked the panellists who kindly agreed to take part in our recent mental health event to nominate a mental health charity to receive a donation from the CWU North West by way of a thank you for all of their help. These are the charities that our panellists chose and they have each received a donation to help with their vital work.
Angela Rayner MP nominated the Anthony Seddon Fund https://tasfund.org.uk/ Based in Ashton-under-Lyne the charity provides mental health peer support and was set up by the family of Anthony Seddon. Anthony sadly died by suicide in 2013 at just 30 years old after a long battle with bipolar disorder and the side effects of medication.
Jamie McGovern suggested Ladders of Life in Liverpool http://laddersoflife.com/ a support group for adults with ADHD. They also work with people with autism or aspergers providing support and aiming to bring about change.
Shelly Asquith put forward MAP, Medical Aid for Palestinians www.map.org.uk As well as providing medical aid, MAP support people in Palestine with mental health issues as a result of living under occupation.
Steve Flatt nominated Mary Seacole House, a Liverpool charity www.maryseacolehouse.com/ that seeks to address the mental health needs of BAMER (Black, Asian, Minority, Ethnic and Refugees) communities. Mary Seacole House is a place where people with diverse social and cultural backgrounds can come together in a non-oppressive environment. Staff will offer support, advice and guidance in both practical and emotional matters.
All fantastic charities and we're delighted to be able to support their work. Thank you again to everybody who took part in our Mental Health Awareness Week Event.