Labour Party Conference 2017 Key Debates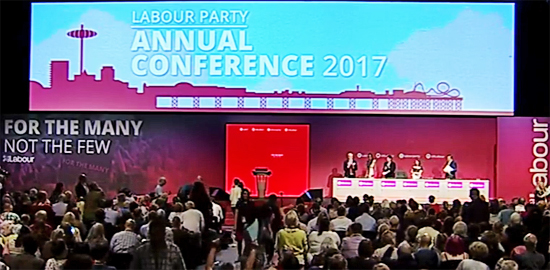 Brighton – Sat 23rd September to Wednesday 27th September
This page brings you the key speeches from Wednesday's session of this year's Labour Party Conference held in Brighton.
Wednesday September 27th
Jeremy Corbyn, Leader of the Labour Party
Conference this afternoon gave Jeremy Corbyn a standing ovation just over 2 minutes which followed previous singing of ' Oh, Jeremy Corbyn' which has become the main theme song to Labour's Party Conference this year.
To an even longer standing ovation following his speech, Jeremy cemented the Party together with a 75 minutes speech which covered every element of politics and the party's policies of change 'For the many, Not the few'.
His speech talked of engaging everyone in both the country and in the Labour Party in evolving policies which will benefit everyone in the country and not just the rich.
He rightfully told Conference that EU citizens living and working in the UK make a huge contribution to our coun try and told them "You are welcome here!" to a huge applause and cheers from the delegates, many of whom are originally from EU countries.
Here is his FULL 75 minute speech, so grab a coffee sit back and relax and see and hear what he ACTUALLY did say. Because you won't get it from the TV news media, the print media, or even social media!
As is befitting a Prime Minister with a theme of putting the many ahead of the few and bringing home democracy to those with whom it belongs; John Lennon's 'Power To The People' was played at the end of his speech!
The words of the song maybe some 46 years old, but they remain just as appropriate today as they were in 1971!
Say you want a revolution, We better get on right away, Well you get on your feet And out on the street, A million workers working for nothing You better give 'em what they really own!!
---
Sunday Debates – Monday Debates – Tuesday Debates