It may be both Easter Sunday and April Fools Day, but our regional Chair, Dan Lewis is fooling no one!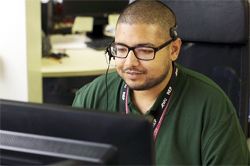 Pictured here pretending to be at work!
Sorry Dan, but the old CRT type monitor is giving the game away, along with the positioning of your headset.
Still, his message is clear in his Tweet that accompanied his pic:
"This year, we're celebrating our 150th anniversary – Trade unionists played their part in a movement that has shaped two centuries.

Here are some of their stories: https://tuc150.tuc.org.uk/ #TUC150"
Their web page is certainly well worth reading and will fill many with pride at being a Trade Union member, and also the fact that women play such a big role in Trade Union history.
Whilst at the same time the TUC celebrates this historic event, it also celebrates
40 Years of Union Safety Reps: https://www.tuc.org.uk/celebrating-40-years-union-safety-reps

Happy Easter, Dan!
Source: Dan Lewis / Twitter / unionsafety / TUC