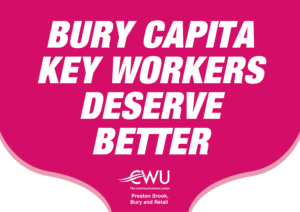 CWU Press Release
27/04/2021
For Immediate Release
Andy Burnham and Bury council leader Eamonn O'Brien have both backed the Communication Workers' Union (CWU)'s call for Capita to reverse its decision to close down its Contact Centre in Bury, Greater Manchester.
The Capita Contact Centre, which serves as a call centre for Tesco Mobile, has existed for over two decades and is a vital local employer.
However, it was announced earlier this week (Tuesday) that the site will be permanently closing its doors in September.
Capita's proposals to CWU members in Bury is as follows:
–        Work from the Preston Brook site (a 70-mile round trip from Dumers Lane, notwithstanding the travel they already do to get to Bury)
–        Allow 25% of people to work from home (currently, the majority of staff are working from home across both sites due to the pandemic)
–        Re-deployment to other contracts within the Capita business, but with no confirmation of parity of pay, T&Cs and role similarity.
The CWU believes that these proposals are insulting and completely unrealistic. As a union, we are proposing that the company:
–        Allow employees the opportunity to continue their role at Tesco Mobile in a work from home capacity at current levels – not the diminished 25% proposed. To the best of our knowledge, this has worked well for the vast majority of people during the pandemic, and there is no feasible reason why it shouldn't continue.
–        For those that cannot commit to working from home permanently, Capita should look at alternative sites in the local area, which will allow the role to remain in Bury or the surrounding area.
CWU members will be demonstrating tomorrow (Friday) outside of the Centre. Bury Council Leader Eamonn O'Brien will be at the site from 9.45 to 10.15 and will be available for comment.
Speaking in support of the workers, Greater Manchester Mayor Andy Burnham said: "I am very disappointed that Capita and Tesco Mobile have taken the decision to transfer much needed jobs out of Bury.
"These key workers, who have worked tirelessly throughout the pandemic helping to keep the country connected, deserve better and I would urge both Tesco Mobile and Capita to work constructively with the local council and the CWU to find a solution that benefits all stakeholders and keeps the jobs in Bury.
"I will do all I can as mayor to support the union and the local council."
Bury Council Leader Eamonn O'Brien added: "Bury Labour stands in solidarity with employees at Capita's Bury call centre.
"I was very disappointed to hear that the Bury site is being proposed for closure with jobs transferred elsewhere out of the borough putting many workers' futures at risk. Not only will this be bad for the workers, it will be bad for our local economy.
"I am in full support of the proposals put forward by the Communication Workers Union to retain these jobs in Bury by allowing employees to continue working from home where appropriate and looking for an alternative site in Bury to keep these jobs in our borough.
"I will ensure the Council is ready to engage with Capita about how we can help explore these proposals."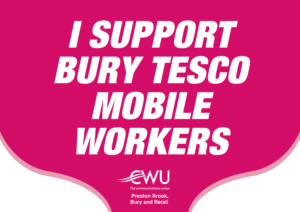 CWU North West Regional Secretary Carl Webb said: "Capita's decision to close down this call centre truly beggars belief.
"These workers have built up this brand from the bottom up – and to treat these key workers like this, after their year of bravely keeping the country connected, is astonishing.
"There won't be any doubt that the CWU will stand in solidarity with its members and will be resolute in supporting a better proposal than what the company are currently offering."
ENDS
For more information, please contact CWU North West Regional Secretary Carl Webb on +44 7850 019602