Andy Burnham to join keep jobs in Bury campaign – Press Release
Andy Burnham will be visiting Bury contact centre tomorrow morning (Friday 11th June) to support a campaign by Communication Workers Union (CWU) members to keep jobs in Bury.
The Greater Ma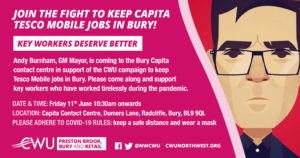 nchester Mayor will be joining local trade unionists and residents opposed to the closure of Capita Contact Centre.
The Centre, which serves as a call centre for Tesco Mobile, has existed for over two decades and is a vital local employer.
However, it was announced last month that the site will be permanently closing its doors in September.
Capita's proposals to CWU members in Bury is as follows:
–        Work from the Preston Brook site (a 70-mile round trip from Dumers Lane, notwithstanding the travel they already do to get to Bury)
–        Allow 25% of people to work from home (currently, the majority of staff are working from home across both sites due to the pandemic)
–        Re-deployment to other contracts within the Capita business, but with no confirmation of parity of pay, T&Cs and role similarity.
The CWU believes that these proposals are insulting and completely unrealistic. As a union, we are proposing that the company:
–        Allow employees the opportunity to continue their role at Tesco Mobile in a work from home capacity at current levels – not the diminished 25% proposed. To the best of our knowledge, this has worked well for the vast majority of people during the pandemic, and there is no feasible reason why it shouldn't continue.
–        For those that cannot commit to working from home permanently, Capita should look at alternative sites in the local area, which will allow the role to remain in Bury or the surrounding area.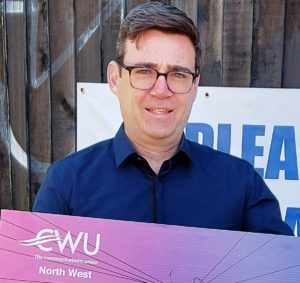 Commenting on the demonstration, Greater Manchester Mayor Andy Burnham said: "Tomorrow, I will be joining key workers from the Bury Capita Contact Centre, who are demonstrating against the decision to move and close the Tesco Mobile operation in Bury.
"The staff impacted by this decision have built Tesco Mobile from the ground up. Throughout the pandemic, these people worked tirelessly to keep Britain connected.
"Their 'reward' has been a company decision to move them to a different call centre, in Runcorn, with an unmanageable journey and all of the extra expenses and time that this involves.
"This has left many of these workers with little other options but to leave a job they've loved – in some cases, for two decades.
"This would be a massive loss to the local economy and a huge blow for the employees.
"I would urge Capita and Tesco Mobile to work constructively with the CWU, the local council and myself to find a solution that benefits Tesco Mobile, the employees and the company, and which keeps the jobs in Bury."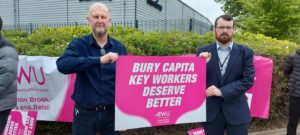 CWU North West Regional Secretary Carl Webb added: "We're delighted to have Andy's support on this campaign.
"To treat key workers like this, after well over a year of working through a global crisis, is astonishing.
"The CWU will stand firmly behind our members until a better proposal than what is currently being offered can be found."
ENDS
Notes
Tomorrow's campaign day will start at 10.30am, and Andy Burnham will be present at approximately 11am.
Capita Contact Centre is situated on Dumers Lane, Radcliffe, Bury, BL9 9QL.
Please ensure you adhere to Covid-19 rules and regulations if you are intending to attend.
For more information, contact CWU North West Regional Secretary Carl Webb on 07850 019602.