Writing on Twitter, CWU General Secretary publishes a letter a 10 year old has written to Margot James MP Parliamentary Under Secretary of State for Business, Energy and Industrial Strategy, about the Post Office dispute.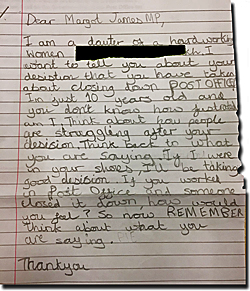 The Union's campaign which highlights the closure programme that the Post Office Board is pursueing includes industrial action and publicity events in the towns and cities where closures of Crown Post Offices as well as oirdinary Post Offices are taking place.
The 10 year old's letter brings home the reality of the decisions being taken by the Post Office and with Government approval, to the ordinbary hard working people of the communities dramatically affected by the closure programme.
In the uncomplicated and direct words of a child, the letter simply asks Margot James to make sensible decisions and to think of how people are struggling.
"If I were in your shoes" it reads, " I'll be taking good decisions".
The ten year old then goes on to ask the MP, "If you worked in Post Office, and someone closed it down, how would you feel?"
The letter ends with these words:
"So now REMEMBER think about what you are saying."
Perhaps we as adults should follow the example of this brave ten year old, who rather than remaining silent, voiced her opinion to the Government, and put pen to paper!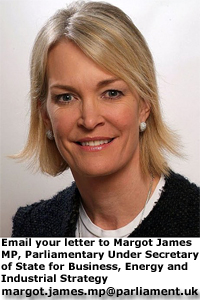 Apart from getting involved in the unions postcard campaign, you can send your individual letters of complaint with regard to the Post Office closures of Crown Post Offices and to their continued programme of closing Post Offices down and replacing it with a fewer services Post Office in the back of retail stores; to Margot James at her email adress of margot.james.mp@parliament.uk
Additionally, if you have a Twitter account, you can send her a message using Twitter to: @margot_james_mp
In the meantime, the CWU's Postcard Campaign deadline for Branch's to get signatures and collections of the cards has been changed to Wednesday 14th December.
As CWU deputy general secretary Terry Pullinger says in the union's national website, commenting on the day of action last weekend:
"Our Post Office members have been fantastic and so have the Great British public, who are signing our campaign post cards in their thousands – from the edge of Kent, across the West Country, throughout Wales, all regions of England, up into Scotland and over in Northern Ireland.
"And my message to the Minister Margot James is, you'll be receiving a bumper Christmas mailbag from the people of the UK – courtesy of the CWU."
Source: CWU / Twitter