November 2017 and so it's back to the future with CWU youth for the
whole of the month!

Celebrating the future of the CWU and of Trade Unionism in this country, and recognising that it is only the youth of this country which forces changes to the status quo and fighting to take control back from the rich and powerful elite, giving it to those who create the real prosperity and equality in this country – the majority, and NOT the few!
With three major campaigns being run by the CWU which will have groundbreaking repercussions on the working lives of CWU members in Royal Mail, BT, and in society as a whole; the youth of our Trade Union have a massive part to play.
After all without our youth, society as a whole has no future!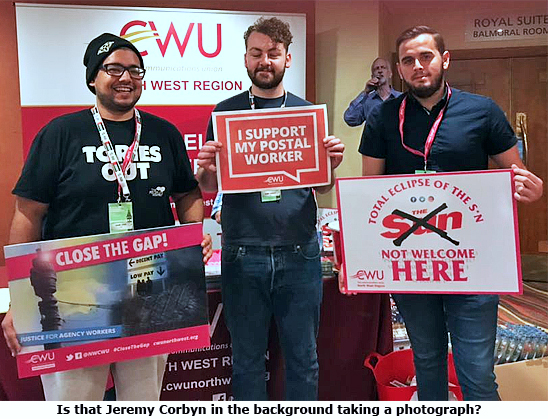 So it is with our Trade Unions and their fight to improve the lives of people, not just in the UK, but across the globe. Wherever CWU members can be found campaigning, you will see CWY Youth members represented and in many cases, leading the way!
However, as Tony Kearns CWU DGS says in the video below, "….. you have only got 2.4% of people aged between 16 and 24 in a Trade Union. There is only 11% of people aged between 24 to 30 in the Trade Union movement."
This means that those young people currently involved are over stretched and it is imperative that young people join a trade union. Why?
Well this is just some of the things that Trade Unions have fought for and won: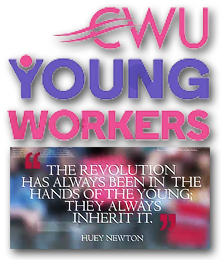 Health and Safety at work legislation
Paid Holidays
Weekends off
Sick pay
Paid maternity/paternity leave
Equal pay
Protection against dicrimination
Representation on behalf of employees
Employment rights
Pensions
Human Rights
Environmental Protection
No employer ever gave workers decent standards of pay, a safe working environment, and sick pay without a Trade Union and it's members taking them kicking and screaming towards making the right decision!
No Government ever made laws protecting workers, providing them with paid holidays, statutory sick pay, equality and protection against discrimination and paid maternity leave, without a mass public movement headed by the Trade Union Movement!
Whilst in 2017, our government is trying it's best to take us back to 1717 and create a world of inequality elitism and ensuring the masses are given a life of poverty, servitude and made to work until they drop; the youth of our Trade Unions and especially the CWU are doing what they can to halt and reverse the Tory time machine's journey to the destruction of all of our rights.
So, this month, we celebrate our Youth and support and encourage them as they support us and take us back to the future and remind us of the days when we too were young workers standing up for our rights and those of weaker members of our society!
Source: C Ingram / CWU / Dan Lewis via Twitter