Sign the petition demanding he returns the money!
Every person who pays national insurance in this country which goes to fund the NHS has the right to know the exact figure of the amount of their money has been given to Richard Branson's Virgincare as a result of them sueing the six local NHS clinical commissioning groups (CCGs) in Surrey, as well as Surrey County Council and NHS England.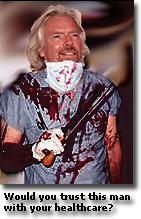 However, this is unlikely to ever be known officially because of the court ruling and because of the now 'confidentiality of commercial enterprises' working in the NHS.
Virgincare took this action because it failed to have its £82m contract to provide children's health services across Surrey renewed and claimed there was serious flaws in the tender contract and process.
According to The Independent newspaper, the sum is well over £328,000 given that NHS Surrey Downs CCG initially disclosed that its liability in the case was £328,000 in its October public finance papers. Their information came from the HSJ reports.
But other reports suggest the payment to Virgincare was as high as £2 million!!
Virgin Care has been a winner of several major contracts for community health and care services in recent years, including a £700m adult social services contract in Bath and North Somerset.
The newspaper quotes Shadow Health Secretary Jonathan Ashworth as saying:
"It's scandalous that NHS money is being wasted on fighting off legal bids from private companies.
Ministers need to make clear how much public money has been used in this case – at the least it seems to be hundreds of thousands of pounds. That is money that could be being used for NHS patients who are waiting longer than ever for routine services."
Many people concerned about the future of our NHS, believe this is all part and parcel of the aim of the Government to financially make the NHS unviable as an excuse then to call in American private healthcare companies to run the NHS as part of a future UK/US trade deal following Brexit.
Given that both Jeremy Hunt and Liam Fox met with a large group of American private healthcare companies earlier this year as part of a Trade visit to the country, this opinion seems highly likely to be accurate.
There is such anger about the fact that Branson has used the courts to squeeze money out of a hugely financially deteriorating NHS that a petiotion has been set up that you can sign.
It demands that Branson's Virgincare gives back the money to the NHS and commits not to sue again!
You can sign it here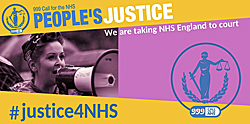 In the meantime, Jeremy Hunt is being taken to court as a result of his plans to turn the NHS into a public/private enterprise based on the American medical insurance system of healthcare provision.
Again the Independent newspaper has this on the latest trauma for the NHS:
"Under NHS England's new plans, the boundary between health and social care would be dissolved and new systems and structures would allow alternative funding sources, ultimately leading to the creation of new healthcare overseers called Accountable Care Organisations (ACOs).
ACOs would permit commercial, non-NHS bodies to run health and social services. They could be awarded huge contracts to manage and provide whole packages of care, allowing the ACOs to either provide the NHS service themselves or sub-contract it.
This means ACOs will have control over the allocation of NHS and taxpayers' money but their accountability for spending it and their obligations to the public will be under commercial contracts, not government statutes."
More information can be found about NHS STPs and ACOs in this article:
NHS Transformation Into US System Begins April '18
Source: The Independent / 999 NHS
See also:
Theresa May Admits To Andrew Neil She Will Asset Strip The NHS