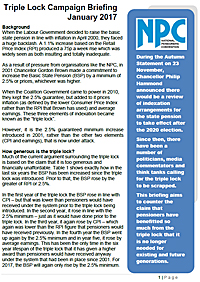 On thursday19th January, delegates attending the CWU Retired Members Conference 2017 held in Manchester were given a shock when Phil Duffy rose to take the rostrum and warned the conference that, "There is a clear and present danger of the Tory party abolishing the 'triple lock' which guarantees benefits for pensioners.
Free prescriptions, bus travel passes and even the state pension; are under attack by a Government who is hell bent on turning this country into a tax haven conference was told.
The Motion (No 4) which was moved by Brian Lee from the Retired Members Advisory Committee. Conference heard from North West Region branch delegate, Phil Duffy from Grt Mersey And S.West Lancs Amal speaking of sinister intentions by a government that uses, "we can't afford this" as an excuse to cut every budget that helps people socially and into retirement.
The NPC's Triple Lock Campaign Briefing can be downloaded here
You can watch Phil's contribution to the debate below:
Apologies for the camera movement