Despite rain and cold, with a little sunshine, CWU's Mersey Branch set up their gazebo and tables outside BT's flagship call centre in Warrington Gemini Business Park; to bring home the message that Manpower agency workers on their BT contract, are suffering an injustice by being paid less than those doing the same work who are directly employed by the the Company.

An early 7:30 am start for Branch Officers and reps setting up their campaign table with flyers, leaflets and folders detailing the CWU's case under the auspices of the national campaign Close The Gap.
They were joined by CWU's national officer Sally Bridge who is leading the campaign and Steve Albon member of her national team.
Postal workers too from St Helens and Warrington turned up too to provide support for the Union's campaign, as well as Regional Secretary Carl Webb, Dave Kennedy Branch Secretary, CWU North West Central Amalgamated Branch and Greater Mersey Branch Secretary Mark Walsh along with web editor, Chris Ingram.
CWU National Officer, Sally Bridge came up from London to attend the event, as she has done across the country for the November events involving all CWU Branches with agency workers employed on the lucrative Manpower contract for BT.
Just some of the points of the campaign given out to members signing the petition and to those from the call centre during their breaks and start and end of their shifts:
To ensure that at the very minimum our Manpower members working on the BT account are paid the Real Living Wage.
To eradicate Pay Between Assignment (PBA) contracts on the BT account.
Expose the low pay rates of our Manpower members as a consequence of PBA contracts and to secure amendments to the UK Agency Worker Regulations 2010 (AWR) to close current loopholes that enable hirers and employment agencies to use PBA contracts and exploit agency workers.
Continue to pressurise the hirer (BT) and employment agency (Manpower) on the issue of low pay as a consequence of the use of PBA contracts.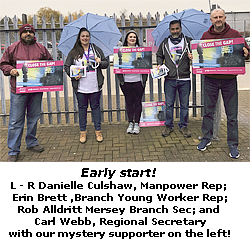 All in all it was a very successful event with local Branch officials
including Branch Secretary Rob Alldritt, Tracy Buckley, James Samuels and the Branch's young workers rep Erin Brett and Manpower Agency Rep Danielle Culshaw welcoming supporters from other Branches and
even providing a much welcomed cup of tea/coffee and sausage/bacon butties!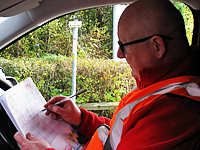 They were also very persuasive in putting over the campaign strategy and aims to CWU agency members, gathering as many signatures to the campaign petition as possible.
Indeed, Sally Bridge even persuaded a CWU member and postal worker arriving in his van to sign the petition too!
More pics and video to follow – so check back daily!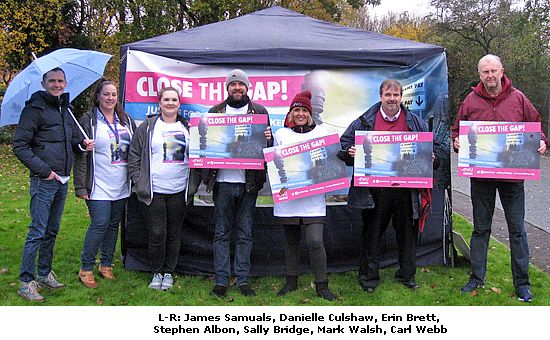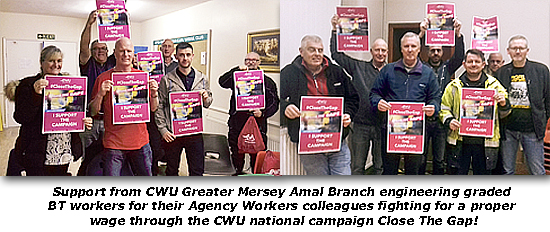 Source: C.Ingram / Pics: S. Albon / A. Teeling / C.Ingram