With this month being dedicated to the CWU's Close The Gap campaign aimed at securing a better working life for the Union's agency workers in BT, CWU activists and Officers are not missing any opportunity to promote the campaign and the plight of agency workers wherever they can, and across the country.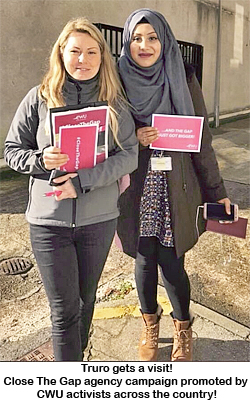 The campaign was fully launched last month with both a petition and campaign posters and leaflets and planned visits to CWU Branches with CWU agency members across the country employed by BT.
Aims & Objectives of the Campaign:
To ensure that at the very minimum our Manpower members working on the BT account are paid the Real Living Wage.
To eradicate Pay Between Assignment (PBA) contracts on the BT account.
Expose the low pay rates of our Manpower members as a consequence of PBA contracts and to secure amendments to the UK Agency Worker Regulations 2010 (AWR) to close current loopholes that enable hirers and employment agencies to use PBA contracts and exploit agency workers.
Continue to pressurise the hirer (BT) and employment agency (Manpower) on the issue of low pay as a consequence of the use of PBA contracts.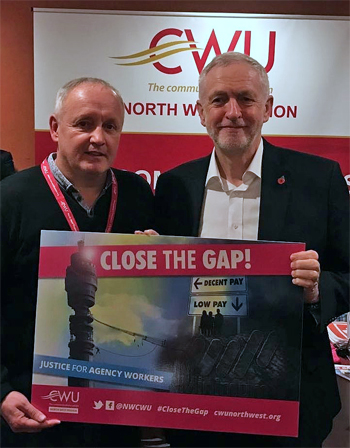 From the NW Labour Conference in Blackpool, to the south of the country in Truro, the campaign roles on!
Every part of the UK is significant and the CWU T&FS members and Branches will leave no place not focused on the campaign to get BT and it's agency suppliers of workers, Manpower; to pay the same wages and the same working conditions as directly employed workers.
With the Labour Party on board with support for Agency workers rights, there is hope that leaving the EU will NOT detrimentally affect all workers rights and that of agency staff.
The campaign's November Tour of The UK dates are as follows:
Thurs 9th Nov – Accrington
Fri 10th Nov – Belfast & Glasgow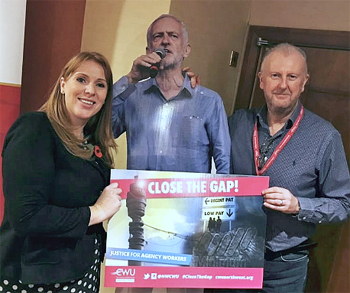 Mon 13th – South Shields
Tues 14th – Gosforth & Bangor
Wed 15th – Canterbury
Thurs 16th – Warrington
Fri 17th – Lincoln
Mon 20th – Sandwell
Wed 22nd – Leicester
Thurs 23rd – Portadown
Source: C Ingram Pics: Carl Webb / Somerset, Devon and Cornwall Branch