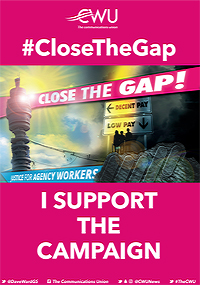 The CWU has recently been actively campaigning to close the pay gap for our Manpower members working on the BT account many of whom are on the Living Wage of £7.50 and are trapped in-work poverty.
The next phase of the Close The Gap campaign is about to be launched as the Government are due to set our their response to the Taylor Review and it is understood that there will be a short period of consultation in January 2018.
To this end there will be a launch, with an event, of Close The Gap Phase 2 which will be attended by Dave Ward, GS, Tony Kearns, SDGS, Andy Kerr, DGS(T).
The details are as follows:
19 December, 11 am – 1pm
Westminster Green
London. SW1
We would like as many branches from Telecoms & Postal to turn up on the 19th at Westminster Green and support this event where we will be collecting signatures and speaking to MP's about the campaign.
All questions about the event and the campaign should be addressed to CWU's National Officer Sally Bridge via email
See also Close The Gap Campaign news page here
Source: CWU