Instead of watching the usual diet of reality TV and soaps that seem to be the only offerings from UK TV channels these days, get yourself some culture and politics in the form a live televised rock concert you can watch on your PC, Tablet and even your mobile phone!
Over the past six months, Global Citizen supporters have taken more than 730,000 actions, calling on world leaders to use the upcoming G20 Summit to create a world that works for everyone.

Tonight, is a Global Citizen Festival in Hamburg, Germany, to pressure leaders to step up and to celebrate the incredible impact of your actions. Musicians, activists and world leaders will take the stage, everyone from Coldplay to Canada's Prime Minister Justin Trudeau.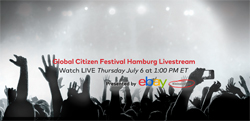 Here is the press release from Global Citizen:
Global Citizen is proud and excited to be hosting our first festival in Germany at the start of the G20 Summit in Hamburg.
If you can't make it to the festival, you can watch all of the action here. Watch this page for a Youtube player livestreaming the festival on 6 July.
Coldplay, Herbert Gronemeyer, Ellie Goulding, Shakira, and Pharrell Williams will all rock the stage. They'll be joined by Andreas Bourani, Lena, and Khatia Buniatishvili; Demi Lovato will also be a presenter.
They'll be joined by leaders from around the world, including Canadian Prime Minister Justin Trudeau, Argentina's President Mauricio Macri, and Norway's Prime Minister Erna Solberg.
You can watch below or via the official website here
Source: Global Citizen