Shock plans to outsource nearly 100 Crown Post Offices have been strongly criticised by the CWU, who have accused management and the Government of "blatant privatisation."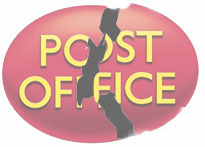 This morning, the company announced they are seeking "franchise partners" within the retail sector for 39 Crown offices over the next few months, with around a further 50 earmarked later in the year.
In what is clearly a 'dumbing down' of services, three Crown offices are set to close completely – two in Northern Ireland (Shaftesbury Square in Belfast and Antrim) and one in south Wales (Barry).
In total, the cutbacks will impact directly on around 1,000 workers, who are set to face the choice of either redundancy, redeployment or transfer of employment (TUPE) to one of the chosen "franchise partners" who are expected to include WH Smiths.
This would see specialist, standalone Crown Post Offices replaced by a small Post Office unit within a retail premises, with the retailer becoming the primary employer.
Services offered will be reduced with longer queues and minimum resources being applied to the Post Office service element of the shop, if experience of other franchised venterues are anything to go by where local Post Offices have been closed down with minimum services only surviving due to being embedded into corner shops.
Reacting to the news, CWU assistant secretary Andy Furey said:
"This is devastating news for many of our members, who have worked extremely hard to turn this company round. When Royal Mail was privatised, the Government said that they would keep the Post Office wholly in the public sector, but what is franchising if it's not privatisation? And who gave the Post Office the authority to privatise?"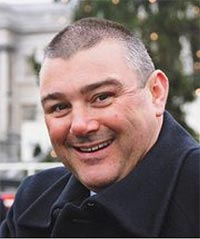 Andy Furey continued:
"We will be vigorously opposing these plans, and we'll also be asking why, if the Post Office is seeking 'franchise partners', the most obvious candidate isn't being considered – Royal Mail.
Surely the best way forward to protect the Crown Network is to re-unite with Royal Mail Group.
It's clear that separation has been a massive mistake and we should bring Royal Mail and the Post Office back together in the public sector."
Andy explained that, having moved from loss-making to break-even point, the business now say they are targeting a profit figure of £10 million.
"We all want to see the Post Office generating increased revenues and turning those revenues into profit – that's an aspiration we all share," he continued.
"But cutting your way to profit is not the way. The most progressive approach is by expansion, innovation, developing new products and services, and winning more market share, particularly in financial services – not by cutting jobs, selling buildings, closing branches and dismantling the network.
If the Post Office's plans are implemented in full, the Crown network will have been cut in half over the course of a decade – we had 458 offices in 2007 and at the end of this programme, it'll be down to around 220. That's not a long-term strategy for success – it's a policy of managed decline."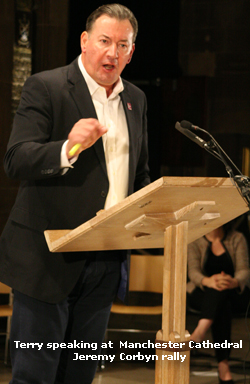 The union will be campaigning locally and nationally – as part of our People's Post initiative – in defence of the Crown Network, and for the re-unification of the Post Office with Royal Mail Group.
Terry Pullinger, CWU deputy general secretary (postal), said:
"Tragically, this is yet another horrendous example of broken promises, irresponsible government and chronic mismanagement by the Post Office, the Post Office should never have been split from Royal Mail – natural synergies and public services have been sacrificed for greed and profit.
The people of this country need to be made aware of these plans and the fact that the Government and the Post Office have no future ambition for the Post Office network. The whole of the CWU stands united behind our Crown Office members, in defence of jobs and the future of the network – and to bring all of the People's Post back together."
Source: CWU / C Ingram