Today in the aftermath of CWU's major Four Pillars camping which has resulted in an agreement on all the elements of the campaign with Royal Mail, now awaiting to be agreed by the membership; the Union was called to give evidence along with Royal Mail, to the Works And Pensions Select Committee in the House of Commons with regard to the new Wage in Retirement CDC pension proposal part of the agreement.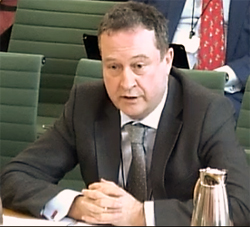 The agreement is being heralded as groundbreaking, with the Chair of the Committee Labour's Frank Field Labour commenting rhetorically, "Good luck in selling it. People can see there is something here can't they?"
Representing the CWU was national officer and member of the Four Pillars negotiating team, Ray Ellis.
Promoting the new pension scheme as part of the wider agreement, he made it clear that the scheme was very much a CWU suggested scheme, with the help of First Actuary and that the Union had reluctantly come to agreement with Royal Mail that the existing DB scheme could not be maintained.
He also made it clear that the Union would never have sacrificed the existing pensions scheme to protect the shareholder's dividends.
The Committee where looking for the detail of what both Royal Mail and the CWU are asking for in the way of legislation in order for this new pension scheme negotiated as part of the Four Pillars Agreement, and how it differs from the current defined benefits scheme existing.
You can see Ray's full contribution and that of Royal Mail Group's HR Director, Jon Millidge here:
Source: C Ingram / Parliament TV
Posted: 1st February 2018