Today (25th August 2017) the Communication Workers Union has become the first trade union to collaborate with PAPYRUS Prevention of Young Suicide on the prevention of young suicides and on other mental health issues. Mental health wellbeing is a topic which the CWU have been championing for a number of years.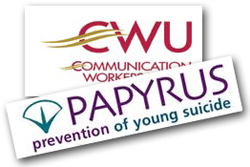 CWU recognises the need for representatives to be able to recognise the signs of mental health suffering through their roles within the workplace and be confidently able to signpost them to supportive organisations such as PAPYRUS Prevention of Young Suicide.
In the UK, suicide is the main cause of death in young people under 35 years of age. Every year over 1,600 people take their own lives. National charity PAPYRUS Prevention of Young Suicide provides practical advice and support – how to cope, what to say and do – to young people and anyone concerned that a young person may be at risk of killing themselves.
This initiative follows several motions at the CWU general conference which have now become union policy. In particular this year's Conference saw an emotional debate take place over Motion 9 on the subject of youth suicide and campaigns of prevention.
The union's young workers committee has launched the Charity Promise initiative, which will see a close working relationship with PAPYRUS Prevention of Young Suicide including workshops and other projects to raise awareness of this very serious issue.
As part of the Charity Promise the CWU will raise awareness of the work that PAPYRUS Prevention of Young Suicide continues to do and will support and participate in World Suicide Participation Day on 10th September 2017 and the HOPEWalk in October in Liverpool.
Linda Roy, CWU national equality officer, said:
"As a trade union, it's right that we support PAPYRUS to raise awareness of the issues, reduce stigma, and to encourage young people in crisis to seek help before they reach a tipping point.
Speaking on the announcement, PAPYRUS Prevention of Young Suicide CEO Ged Flynn said: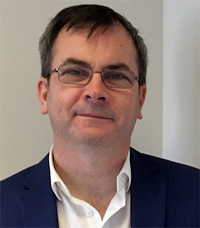 "We are delighted to be working in partnership with CWU. Suicide is the biggest killer of young people in UK – yet it is a subject very often suppressed through stigma and silence, that prevents too many young people from seeking help.
"With over 17,500 members under the age of 30 at CWU, this is a huge opportunity for us to communicate our suicide prevention message to ever new audiences. Together we can reach out to more young people at risk of suicide – and save young lives".
Jake Fear, the chair of the CWU national young workers committee, said:
"It's a great opportunity for the CWU young workers committee to work with a great charity like PAPYRUS which concentrates on helping young people across the country.
"This is a subject the CWU young workers committee is passionate about and I look forward to the great work we can do together."
to young people and anyone concerned that a young person may be at risk of killing themselves. Call PAPYRUS HOPElineUK 0800 068 41 41 text 07786 209 697 or email pat@papyrus-uk.org
Source: CWU / Papyrus