The CWU is launching a major campaign of protecting and promoting workers rights in this country, by putting on a massive social event which takes place in Bournemouth's International Conference Centre following Annual General Conference
Under the banner headline of General Secretary Dave Ward's speech at the anti-Trump demonstration earlier this year:
"Let's take back real control – of our NHS, our services, our workplaces and politics.";
the Communication Workers Union is presenting an evening of politics, music and comedy.
This FREE event will be the launch for our major campaign on a new deal for workers in this country, and all conference delegates have been assigned their ticket to the event.
CWU members attending conference as observers, or simply traveling to the event, just need to show their CWU membership card.
Members of the public need to apply for their free tickets by clicking on the yellow right hand side of the pic below.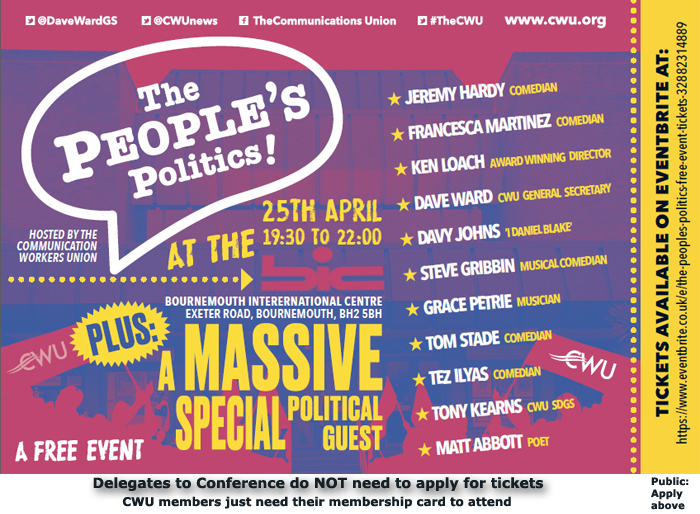 The Union issued this press release this morning piblicising the event:
The CWU will be hosting a major event titled 'The People's Politics' during this year's Annual Conference at the Bournemouth International Centre.
On Tuesday 25th April 2017, the world of music, comedy and politics will align for a night of debate focusing on the future of the world of work and politics and services in the UK.
Award-winning film director Ken Loach features alongside the star of his BAFTA award winning movie 'I Daniel Blake', Davey Johns.
Event performances from comedians Francesca Martinez, Tom Stade, Tez Ilyas and Jeremy Hardy accompanied by Grace Petrie, Steve Gribbin and poet Matt Abbott, all sharing a stage with CWU speakers and appearing beside a soon-to-be announced special political guest.
The event begins at 7.30pm and tickets are FREE, however must be booked in advance. Tickets to this much-anticipated event can be applied for using the link below.
https://www.eventbrite.co.uk/e/the-peoples-politics-free-event-tickets-32882314889?utm_term=eventurl_text
Due to high demand we would encourage for tickets to be registered for as soon as possible.
Source: CWU