CWU Annual Conference 2018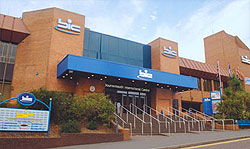 The Bournemouth International Conference Centre, is once again the venue for this year's CWU Annual Conference.
At the bottom of this page you will find a link to our coverage of the debates and speeches.
This year's conference is probably one of the toughest in terms of the issue of 'Re-design' facing the Union since it being formed from two Unions, the NCU and the UCW in the middle 1990's.
In addition, the people of this country and their Trade Unions are facing the most vicious attacks since Thatcher's Tory Governments of 1979 to 1997!
The motions to conference reflect this and the debates are highly formative, in the detail presented in evidence; and the cogent arguments put to conference by Branch delagates from across the UK.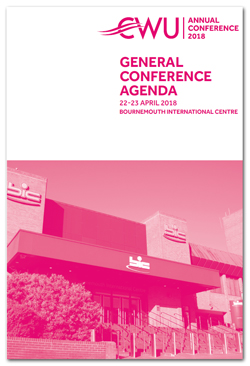 The CWU Annual Conference is split over the four days of it's sitting:
Sunday to Monday – General Conference
Major policy issues on public services that affect everyone in this country such as the NHS, Worker's Rights, Pensioner's Rights, Workplace Health and Safety, Women and Equality Rights andthose of the Disabled too are debated, along with policy creation on workplace terms and conditions including; bullying and harassment, sick leave, annual leave, career opportunities, promotion, and the implementation of national agreements with the various businesses that CWU members are employed in.
Tuesday to Wednesday – Industrial Conferences (Postal, Telecoms & Financial Services)
You can download the General Conferece Agenda by clicking on the pic above.