CWU Celebrates Royal Mail Group Sign-Up To The
TUC's "Dying To Work" Voluntary Charter
This website has featured previously the issue of discriminatory practices by employers of terminally ill employees, being sacked despite the fact they are still able to function at their work, albeit perhaps with some work-time or work-place adaptions.
The TUC has long campaigned for the rights of working people who are suffering from cancer and other fatal illnesses during the period leading up to their inability to continue working.
In order to address this, the Union has long supported the TUC's Dying To Work campaign; which identifies some of the major issues facing those workers nearing the end of life:
* Reduced income and loss of financial security.
* Loss of stimulation, dignity and normality associated with being in employment.
* Undergoing an inevitably stressful and upsetting HR procedure.
* Loss of 'Death in Service' and 'Life Assurance' payments to family members and loved ones.
The Dying to Work campaign would like to see terminal illness recognised as a 'protected characteristic' so that an employee with a terminal illness would enjoy a 'protected period' where they could not be dismissed as a result of their condition.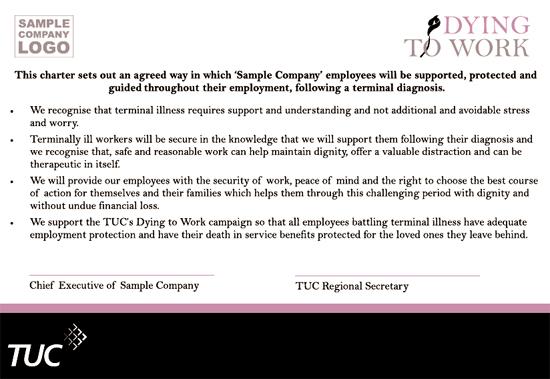 It is simply unjust for employers to be able to sack a terminally ill employee if they fail a capability assessment with 'reasonable adjustments', and many employers don't even bother with implementing reasonable adjustments.
Whilst the 2010 Equality Act does offer some protection for terminally ill employees, it still allows for their easy dismissal.
The 'protection period' would give every person battling terminal conditions the choice of how to spend their final months and the peace of mind to know their job was protected and the future financial security of their family was guaranteed.
In order to get employers on board the TUC has developed a 'Voluntary Charter' that companies can sign up to agreeing to support workers with a terminal illness diagnosis.
There are some well-known employers signed up including energy giant E.On, Legal & General and Santander along with NHS Trusts, a number of local authority employers and even the Isle of Man Steam Packet Railway Company!
There is now close to 100,000 employees covered by the voluntary charter, and thanks to the hard work of CWU official's, that number is about to swell dramatically!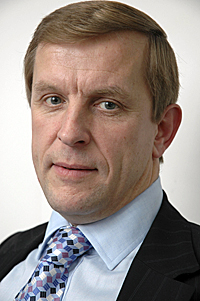 Dave Joyce, CWU's CWU National Health, Safety & Environment Officer and a member of the TUC's Union Health & Safety Specialists Committee; has been working with the Royal Mail Group with regard to them taking on board the TUIC's Dying To Work Voluntary Charter, much to the delight of the TUC.
So much so, that a special event to take place at TUC/HQ, Congress House where myself on behalf of CWU, Shaun Davis Royal Mail Group Global Director of Safety, Health, Wellbeing & Sustainability and TUC General Secretary Frances O'Grady will jointly sign the TUC "Dying To Work" Voluntary Charter at 10 am on Wednesday 30th August 2017. The signing will take place in the Bevin Room at TUC HQ Congress House.
The TUC are absolutely 'over the moon' about Dave's success in getting Royal Mail to 'sign-up'; with Francis O'Grady is delighted, Rob Johnston TUC Policy and Campaigns Officer and Hugh Robertson TUC Head of Health and Safety all expressing their delight.

Lee Baron RTUC Midlands Regional Secretary has led the campaign, and all believe that it really is a tremendous boost to the campaign to have Royal Mail commit to the Charter.
The campaign so far has employers signed up covering 375,000 workers at the moment and the Royal Mail Group is
by far the biggest employer to sign-up with 142,000 Employees in the UK Operation which equates to one in every 185 jobs in the UK being provided by Royal Mail Group plus GLS, the Royal Mail Group's European Operation with a further 17,000 Employees.
Dave says this will swell the numbers covered by the Charter to
534,000 Workers and the TUC is really pleased about this and can't thank CWU enough for the huge boost to the campaign.
Hopefully, the CWU's Comms Dept will accompany Dave, and provide the publicity that this achievement by the CWU deserves.
Indeed, the signing ceremony includes a specially prepared symbolic "giant" copy of the Charter, with the Royal Mail Company Logo and the CWU Union Logo together with TUC Logo and the names of the three signatories to the Charter.
Source: TUC / Dave Joyce / CWU