The Communication Workers Union (CWU) has today strongly condemned Royal Mail's decision to close its current Defined Benefit pension scheme for future accrual in March 2018.
The Union responded immediately with media interviews, one of which features Ray Ellis, Acting Deputy General Secretary (Postal); speaking on Sky News. Click his pic below to watch his interview.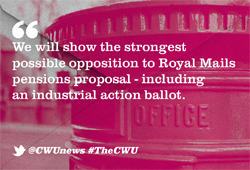 In place of the current Defined Benefit scheme, Royal Mail plan to put all members into inferior money purchase alternatives.
On average, employees face losing up to a third of their future pensions. For a 50 year old Section C member earning £25,000 a year and retiring at 65, this would equate to a loss of £4,392 a year (£109,800 over 25 years).
Commenting on the company's closure announcement, Ray Ellis, Acting Deputy General Secretary (Postal) said:
"Although Royal Mail's own consultation exercise revealed massive opposition to its closure plan, the company has decided to ignore the views of its workforce and proceed with closure without consent".
CWU has made clear that any attempt by the company to impose change without agreement will be met with the strongest possible opposition including a ballot for industrial action. We will not stand by and watch the company abandon the pension promises it made at the time of privatisation which threatens our members with massive cuts to their future pension benefits and insecurity and poverty in retirement".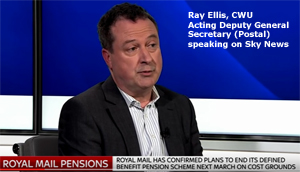 In response to the company's plan to close the DB scheme to future accrual, the CWU have put forward an alternative proposal for a defined benefit Wage in Retirement Scheme (WINRS) which will provide the company with "a credible, cost efficient and lasting pension solution for all its employees".
Ray Ellis, A/DGSP warned the company to think again:
"Instead of provoking a dispute by acting without agreement and closing the scheme without consent, we urge Royal Mail to withdraw its plans and enter into serious talks with the CWU to introduce our new WINRS scheme to guarantee all its employees a decent wage and security in retirement."
Sky News featured Royal Mail's announcement and interviewed Ray Ellis – click the pic to watch his interview.
See also a video from a Royal Mail worker urging colleagues to make a stand against this appalling decision here
Source: CWU