In a debate which left many with tear-filled eyes, and for some tears on their faces; CWU delegates opened their hearts to victims of Hillsbourough, whilst turnign their backs on Rupert Murdocks The Sun tabloid and the total lies and vitriol against Liverpool written by Kelvin McKenzie.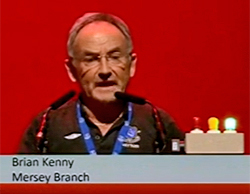 Motion 84 was brought to the Conference Agenda by Brian Kenny of the Mersey Branch and seconded by Mark Walsh from the Greater Mersey Amal Branch (Grt Merseyside and South East Lancs branch).
The Acting GS, Tony Kearns made an emotional contribution at the end of the debate on behalf of the NEC who were of course supporting the motion.
His final words, almost broken at the end of his speech; " …a total eclipse of the sun." were followed by huge applause from the conference delegates; and again once more when the motion was carried.
It was no accident that all the contributers to the debate were from Merseyside.
Conference delegates paid their respect, listened in total silence and unanimously carried the motion, the full terms of which are below:
84 On April 15th 1989 a disaster at Hillsborough Stadium in
Sheffield led, ultimately, to the deaths of 96 innocent fans who had left home
that morning to watch a football match. Due to crowd control mis-management,
those fans, whose ages ranged from 10 to 67, had the life crushed out of them.
Contrary to the facts, the Sun published a front-page story with the banner
headline 'The Truth' which contained blatant lies, including:
"Drunken Liverpool fans viciously attacked rescue workers as they tried to
revive victims and police officers, firemen and ambulance crews were punched,
kicked and urinated upon!"
This was printed in a national British newspaper, the Sun!
For this reason, this Conference instructs the NEC to support the campaign for
all retailers and vendors of newspapers to stop selling the Sun.
Conference applauds the group called 'The Total Eclipse of the Sun' for their
endeavours to rid the UK of this newspaper.
You can watch the full debate below: