The CWU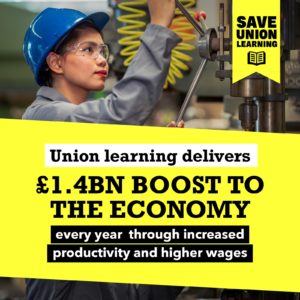 along with the TUC and other unions are campaigning to convince the government to consider the future of the Union Learning Fund and halt plans for its abolition.
The government's plans to cut the Union Learning Fund in England means hundreds of thousands of workers will miss out on skills and training.
Please support our campaign and sign the TUC petition below:
https://www.megaphone.org.uk/petitions/uk-gov-don-t-cut-union-learning
Supporting the campaign CWU Member and Labour Wirral Councillor Brian Kenny moved a motion on-behalf of the Labour Group at full Wirral Council calling on Wirral Council to:
 Express its public support for the continuation of the Union Learning Fund
Raise this issue with our 4 local MPs and encourage them to call on the government to reverse its decision
 The motion was seconded by Cllr. Adrian Jones and was carried overwhelmingly.  
 You can also support the campaign by signing the TUC petition below
https://www.megaphone.org.uk/petitions/uk-gov-don-t-cut-union-learning
Brian's speech to the council is below.
MR MAYOR, I DECLARE A PERSONAL INTEREST, – IN THAT I WAS ELECTED AS A CWU, TRADE UNION OFFICER, IN DECEMBER 1970 – EXACTLY 50 YEARS AGO, – AND I AM PROUD TO HAVE BEEN ELECTED EVERY YEAR SINCE, TO REMAIN AN ACTIVE TRADE UNIONIST.
THE UNION LEARNING FUND (ULF) WAS SET UP IN 1998 – TO WIDEN ACCESS TO LEARNING AND TRAINING – IN WORKPLACES.
THE FUND SUPPORTS WORKPLACE PROJECTS ACROSS ENGLAND, INCLUDING HERE IN WIRRAL,
EACH YEAR, AROUND 200,000 WORKERS ARE SUPPORTED INTO JOB-RELEVANT,  LEARNING OR TRAINING.
THOUSANDS OF WORKERS, BASED IN WIRRAL, ARE CURRENTLY ELIGIBLE, FOR THIS SUPPORT.
TWO MONTHS AGO, THE TUC RECEIVED A LETTER FROM THE DEPARTMENT FOR EDUCATION, SAYING THA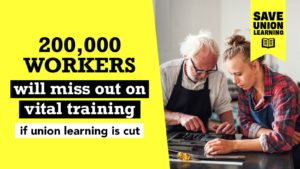 T MINISTERS HAVE DECIDED TO END THE UNION LEARNING FUND – FROM MARCH NEXT YEAR.
MR MAYOR, THAT DECISION IS SHORT-SIGHTED AND COUNTER-PRODUCTIVE, AND MUST BE REVERSED.
IT IS AN ACT OF SHEER VANDALISM FOR OUR ECONOMY,  AND THE LIFE CHANCES, OF HUNDREDS OF THOUSANDS OF PEOPLE, INCLUDING MANY WIRRAL RESIDENTS.
THERE HAS BEEN NO ATTEMPT BY THE GOVERNMENT TO HAVE AN IMPACT ASSESSMENT ON THE DECISION. IN FACT, A LONG LIST OF MAJOR COMPANIES ARE PUBLICLY OPPOSING IT.
THE LAST INDEPENDENT EVALUATION OF THE ULF WAS UNDERTAKEN, – BY EXETER UNIVERSITY. 
THEY SPOKE TO ALMOST 2,500 LEARNERS, AND FOUND NOTHING BUT POSITIVE OUTCOMES:
ULF-SUPPORTED PROJECTS COVERING A RANGE OF QUALIFICATIONS FOR WORKERS, HAVE CONSISTENTLY EXCEEDED THE TARGETS – AS DISCOVERED BY THE UNIVERSITY.
THE INDEPENDENT EVALUATION FOUND THAT UNION LEARNING PROVIDED EXCELLENT VALUE FOR MONEY: 
THE ULF DELIVERS AN ESTIMATED NET CONTRIBUTION TO THE ECONOMY, OF MORE THAN £1.4 BILLION, AS A RESULT OF A BOOST TO
 JOBS,
 WAGES, AND
 PRODUCTIVITY. 
 MR MAYOR, THE GOVERNMENT HAS SAID IT WILL PUT RESKILLING WORKERS AT THE HEART OF ITS ECONOMIC RECOVERY PLANS, AFTER THE PANDEMIC.
 WELL, MR MAYOR, UNION LEARNING IS IDEALLY PLACED TO SUPPORT THIS ASPIRATION.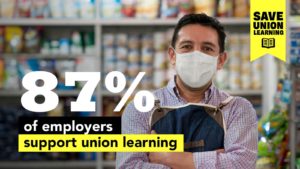 THE 44,000 UNION LEARNING REPS ACROSS ENGLAND WOULD BE A CRITICAL PART OF THAT RENEWAL.
THEY COULD BE HUGE ENABLERS AND PERSUADERS FOR ANY GREEN NEW DEAL  – GIVING PEOPLE THE CONFIDENCE AND TOOLS  – TO GAIN NEW SKILLS.
SUCCESSIVE GOVERNMENTS OF ALL PARTIES – ALL PARTIES – HAVE VALUED THIS ROLE – AND HAVE SUPPORTED THE ULF.
ULF MONEY CAN ONLY BE SPENT ON THE DIRECT COSTS OF GETTING WORKING PEOPLE, INTO LEARNING AND SKILLS TRAINING, – AND THE ASSOCIATED COSTS OF DELIVERING THIS PROGRAMME. 
WE SHOULD ALL KNOW JUST HOW VALUABLE, –  LIFELONG LEARNING CAN BE – IN OPENING UP PEOPLE'S LIVES, CONFIDENCE AND WELLBEING, – AS WELL AS THE PRACTICAL AND JOB-RELATED BENEFITS IT CAN BRING.
WITHOUT THE ABILITY TO PROGRESS, WORKERS WHO PREVIOUSLY COULD HAVE BENEFITTED FROM ULF LEARNING REP SUPPORT, COULD FIND THEMSELVES EXCLUDED.THE LOSERS WILL NOT JUST BE:-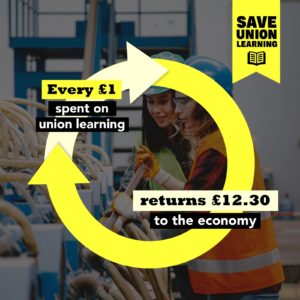 OUR ECONOMY,
UK PRODUCTIVITY AND
OUR COMMUNITIES OVER THE NEXT DECADE,
BUT THE ASPIRATIONS OF THOUSANDS OF PEOPLE, HERE IN WIRRAL.
THIS WIRRAL COUNCIL SHOULD NOW SUPPORT THIS MOTION, AND :- 
EXPRESS ITS PUBLIC SUPPORT FOR THE CONTINUATION OF THE UNION LEARNING FUND.
WE SHOULD ASK THE LEADER OF THE COUNCIL, TO RAISE THIS VITAL ISSUE WITH OUR 4 LOCAL MPS, AND ASK THEM TO CALL ON THE GOVERNMENT – TO REVERSE ITS DECISION.
THANK YOU, MR MAYOR.
Posted: 8th December 2020