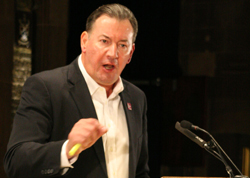 Deputy Assistant Secretary Postal, Terry Pullinger, has written to all Postal Branches of the Union to update them on the latest campaign initiative.
Here is part of his LTB, the full version of which can be downloaded from the special campaign pages:
As part of our Four Pillars of Security campaign, the union is holding a series of Unit Representative Briefings across the UK to provide an update on the latest talks with the business and set out our key messages to secure the right agreement for all our members in the Royal Mail Group, including Parcelforce.
In line with the policy carried unanimously at CWU's Annual Conference in April, the Briefings aim to encourage all Unit Representatives, in every grade and every part of the business, to do all they can to maximize membership support for the union's forward agenda which aims to rise to the challenges the company faces from automation and competition, while delivering real employment, standard of living and retirement security for all our members.
Full details of the tour and of the campaign so far can be read on the Four Pillars Campaign pages of this website. Click the pic below:

Source: CWU