The Communication Workers Union today welcomed Ofcom's decision not to introduce more charge controls and efficiency targets on Royal Mail following its review of how the company is regulated.
Ofcom's report was issued today and you can read their press release and download their full report by following the link at the end of this page.
The Union also welcomed the recognition that the USO is both valued and should be protected.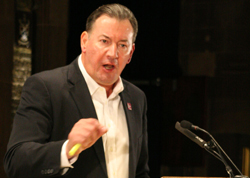 Responding to today's announcement from Ofcom, Terry Pullinger, Deputy General Secretary (Postal) said:
"We welcome Ofcom's decision not to introduce more unnecessary regulation on Royal Mail which, in a declining letters market, would have hit the company hard and put the future of the vital Universal Service Obligation (USO) at serious risk."
Terry Pullinger added that he also feels sure that many people employed by Ofcom to purely scrutinise Royal Mail operations and not any of the other providers, will also welcome the announcement:
"Ofcom need to be far clearer on its all-embracing statement on efficiency, Royal Mail Group employees feel that their employment, standard of living and retirement security is under threat because of unfair competition and are working under extreme pressure to deliver this great public service."
But, he highlighted the fact that Ofcom did not take a hard look at the bogus employment practices in the industry, saying:
"Ofcom have missed a golden opportunity to take a view on the 'wild west workplace' employment models of bogus self-employment which are taking advantage of working people and creating unfair competition for Royal Mail Group via the unregulated parcel market."
Concluding, Terry said:
"The review shows that Royal Mail's employees have delivered and it is now time for Ofcom to deliver and be clearer on what fair or unfair competition looks like and what services and employment standards should apply to all providers in the post and delivery sector."
See also: Ofcom Concludes Review Of Royal Mail Regulation
Source: CWU