CWU Press Statement Following The EU Referendum Result
Following the EU Referendum result, the CWU has issued a statement to the media, reproduced below. The statement has been picked up and published by today's (24th June 2016) edition of the Daily Mirror.
In his letter to all union branches, Dave Ward General Secretary of the union said:
"The CWU recommended a vote to remain in the referendum, primarily because of the risk Brexit, under the leadership of the Tories, would pose to employment rights.
In our view, the referendum result and the campaign over the past months, has underlined the urgent need for a new political settlement in this country.

The issues highlighted in our statement represent the things we will be campaigning for to make sure the voice of workers – whether they voted for leave or remain – shapes the future of the UK outside of the EU."
The press statement reads:
CWU RESPONSE TO EU REFERENDUM RESULT
CWU General Secretary Dave Ward said: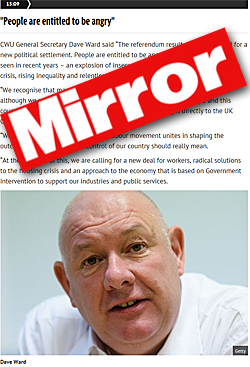 "The referendum result represents a call for a new political settlement. People are entitled to be angry about what we have all seen in recent years – an explosion of insecure employment, an appalling housing crisis, rising inequality and relentless attacks on our public services.
We recognise that many CWU members would have voted to leave the EU and although we supported Remain, it was always on the basis that Europe and this country needed serious reform. From today, we take that fight directly to the UK Government.
What's crucial now is that the whole labour movement unites in shaping the outcome of what taking back control of our country should really mean.
At the forefront of this, we are calling for a new deal for workers, radical solutions to the housing crisis and an approach to the economy that is based on Government intervention to support our industries and public services.
It's also clear the country needs to have a more open and honest debate about immigration. This has not happened during the campaign – we cannot allow the country to be ruled by those who preach fear, division and the scapegoating of migrants.
There is a serious divide between the Westminster elite and communities across the UK. It's time to change the balance of forces in this country, which means taking back real control – of our railways, public services, schools and hospitals.
We don't need a new Tory Prime Minister to do this – We need a new Government".
Source: CWU / Daily Mirror