Hi, Peter Pascall here.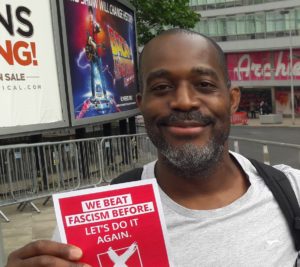 For those who don't know me, I'm the recently elected North West BAME Lead.
I'm just writing this little piece to give some praise to the key work being carried out by CWU members where I work at BT Lancaster House, Liverpool.
All these members are key workers and are unseen and unsung heroes working non-stop through the Coronavirus crisis.
There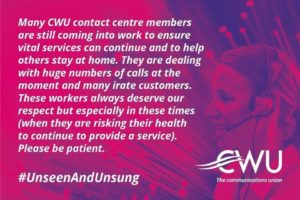 are roughly 144 operators taking calls for the Relay UK Service for people who are deaf or speck impaired. But anybody can use the app that we now have in service. I'll give a brief history for those who do not know about/much about the service.
People have been using the UK's national relay service since 1991, when it was known as TypeTalk. Back then, it was only available to textphone users (because that was the only technology available).
In 2012, Ofcom decided that UK users needed an improved relay service, one that would allow for more natural conversations on a wide range of devices that weren't around when the first relay service started: smartphones, computers, and tablets.
So, in 2014 BT launched the Next Generation Text service – now called Relay UK, which they run for everyone on behalf of all UK landline and mobile phone providers.
As a regulated service, we have to comply with strict guidelines and criteria that apply to all providers of relay services. Ofcom regularly reviews our performance.
All staff is kept up to date with mandatory training on data protection and privacy and information security. We're fully compliant with the General Data Protection Regulation (GDPR), which means that all users' data is completely safe.
In my Department we also act as operators for standard 999 calls for all 4 emergency services and also take emergency ESMS (Emergency Short Message Service), or to the layman text messages.  The calls are taken via the medium of talking to an emergency services EA (Emergency Assistant) operator and ourselves and we have to relay by speech and typing to help the customer.
The job is not as easy at it sounds as you have to be at a very high level of concentration at all times as we are doing several cognitive activities at the same time. And at times it can be very mentally and emotionally draining.  If you can imagine any life threatening or serious scenario. We've dealt with it at some point as an emergency operator.
I do – at this time – have to give praise to the CWU and BT for how quickly they have got to grips with the situation for social distancing and the constant cleaning of all surfaces we would touch and be in contact with on normal daily basis without thinking about it.  We have one-way system now in place (and has been for some time now), so as to make sure that social distancing in in operation at all times, as you will see from some of the photographs.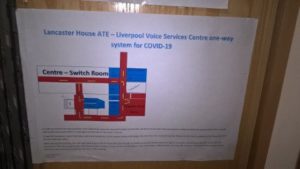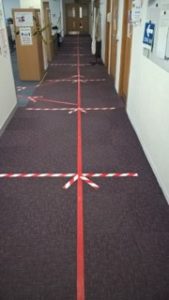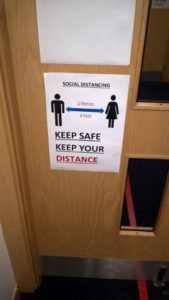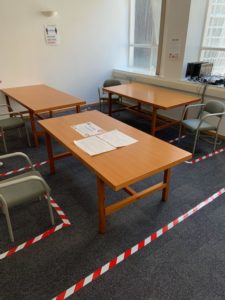 It's getting to the point where I can hardly remember what it was like in the switch room before lock down and social distancing. But it's a very good thing and people are being very patient, well – mannered, and conscientious about it. It has also brought people together and there is more of a camaraderie about the place.
I just wanted to give a verbal round of applause to my fellow team members, the other emergency operators around the UK and all key workers in general. Because without a lot of there selfless mindset and actions things during the pandemic would surely be a lot worse.
So, thanks to all of you involved. And I'm sure that anyone else reading this will feel the same.
Cheers,
Peter Pascall
NW BAME Lead and Mersey Branch Equality Officer