The CWU's industrial action in defence of local Crown Post Offices has gathered pace in terms of media coverage, and non so pertinent as that of a Liverpool Post Office Counter Clerk whose personal story of working for the PO has hit the headlines following her sending an open letter to her employers and asking for public support.
Julie Courtney, a CWU Greater Mersey Amal Branch member; had her letter published in the Daily Mirror yesterday, day one of this week's strike action across the country. Click the pic to read the full story.
Her letter is detailed below:
"I have worked for the Post Office for over 20 years, and for the vast majority of that I have thoroughly enjoyed and always wanted to serve the public.
I started as a retail assistant and have worked at all levels in the business. What is extremely frustrating is the inference in the media which now seems to judge me and my colleagues as somehow irresponsible and uncaring by taking industrial action.
None of us want to be in this position and have been through extremely difficult periods of change over the last few years.
I personally have been moved three times due to a series of programme closures and cuts described by the employer as 'transformation'.
If there was a sense that these changes were to position us for a positive future then it would be different but that is not how it feels.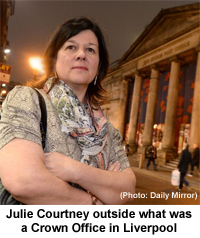 I am 50 and started off as a retail assistant, but I am now a counter clerk in Dingle, Liverpool, and we are getting a lot of sympathy from the public.
More people are coming to the Post Office as bank branches have been closed down.
Our wages are not the best, I am on £21,000 a year, and some of my colleagues are having to claim benefits to live, even though we do jobs we love, serving the public.
I can honestly say and I do believe that I speak for many of my colleagues that we feel completely undervalued and ignored by the Post Office in the manner in which they have approached change in the last few years.
It is demoralising and depressing that our individual views and the views of our trade union appear to be completely ignored.
I do not believe that the changes proposed are doing anything for the people who work for the Post Office or the communities we serve.
It really feels like continuing decline and there is no question that since we have been split from Royal Mail it feels like we are alone with no real future.
And to add insult to injury our new pension will be an absolute disgrace, I don't know what mine will be, but it will be cut by thousands of pounds from what we were hoping for.
Our experience is cuts, attacks on our terms and conditions, a decline in the standard of the environment we work in and the reward for over 20 years of loyal service is them offering us no real future and taking away our pensions.
That is what it feels like working in the Post Office today.
Please support us."
Source: Daily Mirror website