CWU North West Region Conference 2018
Forming A Regional Strategy
Each Regional Sub-Committee has their own aims and strategy for the coming year, decided at their AGMs:
* Equality Committee * Health & Safety Committee * Learning Committee
* Political Committee * Retired Members Committee * Womens Committee
* Young Workers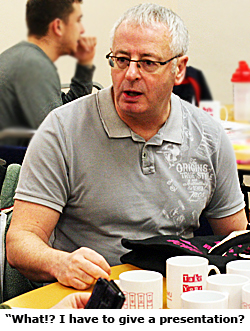 They individually presented their strategy to the delegates at the Conference, but not necessarily in the order the Chair had them listed in and as per the Timetable; as you will see from the video that follows.
This is the part of the Conference where each Officer of the NW Regional Committee, present the strategy of their specific sub-committee verbally, and take any questions on their Committee's strategy for the next 12 months.
This is one of the things that helps to make the North West Region one of the most active and, dare we say, most affective in the political arena as well as in our member's workplaces.
This fact was recoginsed by our guest speakers too, and to the point that the CWU's profile is raised even higher because of our activities in thew wider community too, e.g. the CWU Humanitarian Aid convoys and charitable collections, and thw ork in their communities of Branches in our region.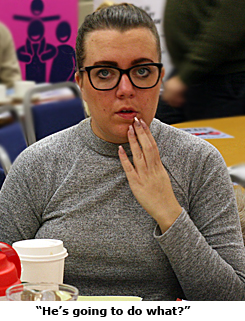 Traditionally, it can be a quite serious section of the Conference, given the issues each sub-comm has to do deal with. It is also good to be brought up to date as to what is different about the forthcoming strtaegy and how the previous year went in terms of meeting their strategic goals as presented the previous year.
Despite meticulous planning, it does not always go according to plan. But then it would be rather boring if it did every time!
On this occasion it added a bit of humour to the proceedings as did one or two of the Regional Officer's presenting their Sub-Committee strategies.
Look out for Jake Kharadi Retired Member's Chair whose enthusiastic humour ran away with him and Equality Chair Barrie Taylor who seemed inherently unaware of being called to present his Strategy Document, much to the incredulity of Conference Chair Dan Lewis.
Here is the 'unexpurgated' full version of the presentations:
If you don't have time to watch the full video of the Future Strategy presentation, you can view the seven individual Officer's videos seperately here
Report, video, and pics : C Ingram
Posted: 1st February 2018