This weekend, Carl Webb, CWU's North West Regional Secretary was proud to launch the first CWU Regional Labour Councillors' Network meeting, which was held at the Mechanics Institute in Manchester, the birth place of the TUC.
The idea of the network is to provide support, information and a wealth of experience through involvement of existing Labour Councillors including those who are CWU members such as Brian Kenny, and Sandra Walmsley, to name just two: for CWU members considering standing as a Labour councillor.
Kieran Quinn, leader of Tameside Council, and Julie Gibson, a Lancashire county councillor, will use their vast experience as councillors and CWU members to co-chair the network.
North West regional secretary Carl Webb explains: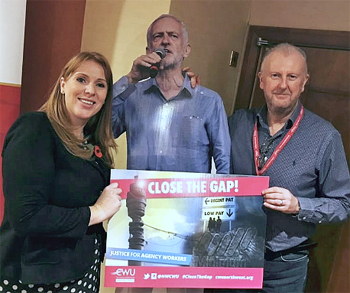 "Since Jeremy Corbyn stood for and won the leadership of the Labour party we have witnessed a sea change in the political landscape.
More members want to become active in their community and therefore we feel that there has never been a better time for our members and or activists to seek public office as a local councillor.
With this in mind the North West Region has taken the decision to set up a CWU Councillors network with the aim of achieving this goal and much more."
The network will allow the union to promote national and local campaigns, as can be seen in the pic above with our agency campaign. Carl Webb is pictured with Angela Rayner NW Labour MP.
It will also run a mentoring system for budding councillors, share best practice and provide training when required. It will also be able to assist the region in encouraging more CWU members to join the Labour Party and to stand for public office, whether that be a school governor, councillor or MP.
CWU general secretary Dave Ward, addressed the event via video link, and concluded his supporting comments by saying:
"This is a great initiative from the North West Region and an important part of driving forward our political agenda. It's important that our political work doesn't just focus on Westminster and we've got many experienced and talented councillors in the union who we want to engage in what we're doing.
By working with councillors and local government in recent years we've managed to save Post Offices, oppose the closure of a BT facility in Tameside, promote the rollout of high-speed broadband and tackle unfair competition in the postal sector. This Councillors' Network will help us to do more of this in the future."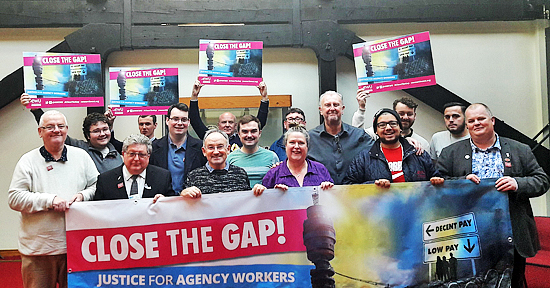 Counsellors Network supports CWU members campaigns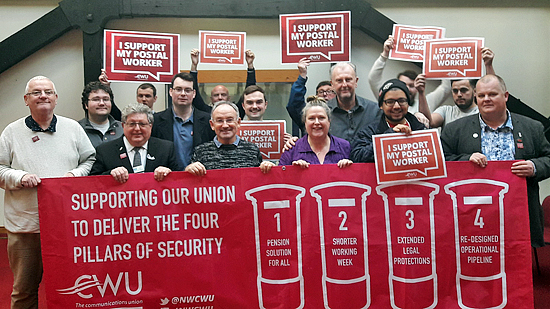 Source: CWU News / Pics: Carl Webb