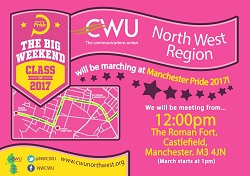 The CWU North West region are taking part in the Manchester Pride Parade this Saturday, 26th August.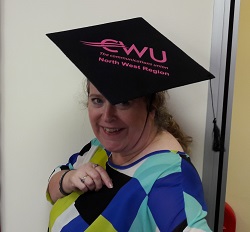 They have organised special CWU branded clothing, flags and rain macs (it is Manchester!) and as the theme is the Class of 2017 we also have some CWU mortarboards (just a bit of fun).
The meeting place for CWU members to gather is at the Roman Fort which is towards the bottom of Liverpool Road on Manchester at 12:00 (see map).
With the parade setting off at 12:30 I is important to meet up in plenty of time in order to take part.
For more information, please contact Carl Webb on 07850 019602 or Karen on 07894 423892.