CWU Policy Paper In Response To Britain's Housing Crisis Published
In their press release issued Wednesday 13th July, The Communication Workers Union released a significant contribution to the housing debate in the form of a comprehensive policy paper from housing campaigner Alex Hilton.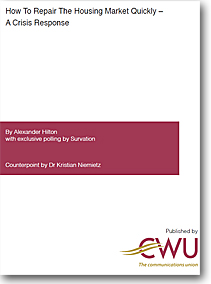 Hilton's paper presents a fully costed comprehensive response to the housing crisis which also saves the Treasury money through a combination of regulation, new housing, rent control, and planning reform.
The paper calls for:
a radical increase in the supply housing – in particular public housing,
the weaning of Britain off its seeming addiction to ever rising house prices, and
tough regulation to improve housing standards, including the banning of all agents fees to tenants
The paper – 'How to repair the housing market quickly – a crisis response'- contains proposals for a secondary housing market in which property is built, bought and traded on a non-profit basis.
It includes new polling data by Survation which shows rent control has majority (64%) support across all demographic and political groups. Additionally, two thirds (67%) of people believe the private rented sector is 'expensive' compared to only 19% and 21% in the council rented and housing association rented sectors, respectively.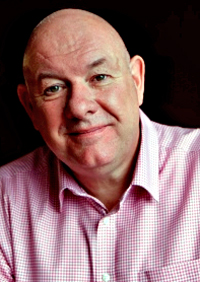 CWU General Secretary Dave Ward said:
"Housing is a key concern to each and every one of our members and their families.
Poor housing affects every area of your life and the worse it gets the higher your likelihood of an impact at work – from being unable to concentrate properly on your job, long commutes that hit your health, wealth and family life, to being unable to find anywhere to live that enables you to get to work or establish good links in the community."
Continueing he said:
"The piece-meal attempts to put a sticking plaster on a national scandal are not only ineffective but an insult to efforts of our members to do their work, look after their families and keep a roof over their heads.
The solution must be rooted in both the supply of and demand for decent housing, allied with bold initiatives in planning, rent control, and landlord registration. Housing must move from a get–rich quick commodity to a utility integral to a productive economy and decent society."
The CWU will also host a major housing conference in London in the autumn.
This will bring together experts in the field, leading politicians and, crucially, over three hundred union activists. "This will be when we write our own story on housing", said Dave. "It will be our members collectively determining what their key priorities are and, more importantly, what our campaign plan to achieve them will be."
You can download the CWU policy document here
Source: CWU