Today 8th March is a celebration of womanhood, and the CWU joins in to promote women not just in the Union, but also in workplaces and homes across the country.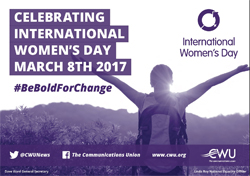 But given that we as a country have not progressed to the extent we need to in ensuring qwomen's rights are equal to those of men, it is inevatable that the day focuses on the issues which still ensure women do not have the equality they deserve, and indeed they need if British women are to prosper in this country.
Indeed, the next couples of years during which the UK Government negotiates it's way, or crashes out of the EU; many fear that women's rights along with worker's rights in general will suffer as a result.
CWU's Equal Opportunities Officer, Linda Roy, speaking to the CWU news department said:
"On Wednesday March 8th women worldwide will participate in events to mark International Women's Day. This global movement celebrates the social, political and economic achievements of women throughout history.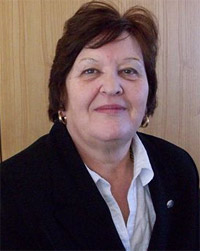 The theme for 2017 is #BeBoldForChange which focuses on inspiring change and achieving a more inclusive gender equal world.
The CWU works hard to eradicate inequality, is pro active in supporting anti-domestic violence initiatives and promoting a healthy work/life balance.
We are proud to celebrate International Women's Day which is also a period for reflection as internationally and domestically there are still major issues facing women. Tens of thousands are victims of sexual and domestic violence, sex trafficking, FGM (Female Genital Mutilation), and oppression on religious and political grounds.
As a trade union we have a duty to protect and empower women. We will lobby internationally to ensure that a strong message of solidarity and support goes out to women around the world demonstrating that we care, and that we will lobby and campaign to expose abuses and promote their interests and well being."
One of the activities that the CWU are doing takes place on the day of the Joint WAC and Regional Chairs & Secretaries meeting.

On 21st March 2017, to commemorate International Women's Day a guided walk will take place from the Embankment tube station in London at 9.50am for a 10am start. The walk will be for about 2 hours ending at Westminster tube station. There is a charge of £9.00 per person for the guided walk.
There will be a speaker, Ian Porter – Suffragettes in Westminster.
Following the walk, the Joint WAC and Regional Chairs & Secretaries will hold their meeting at 2pm at the YMCA, Tower Lodge Conference Room, 200 The Broadway, Wimbledon, London SW19 1RY.
Anyone interested in attending the meeting, should contact the Equal Opportunities Department via email
Source: CWU