Going the extra mile for disadvantaged youngsters runs in the genes for Greater Manchester branch member Chris Webb, who hopes to raise £3,000 for CWU Humanitarian Aid in April by completing the London Marathon.
What doesn't run in the genes, however, is marathon running itself as Chris – son of CWU North West regional secretary and CWUHA chair Carl Webb – is the first to admit he isn't exactly built for the herculean challenge that awaits him on April 24.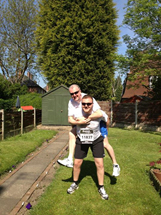 Describing himself as "6ft 2, an ex-rugby league prop-forward and built for comfort and not for speed", the Manchester City Councillor (Labour, Northenden) is presently in hard training to ensure that his first ever marathon doesn't prove a bridge too far!
Chris explains further:
"This will be my first marathon, as I've only ever run a half marathon 18 months ago for CWUHA," explains Chris. "At least this time I won't have to carry my Dad like I did when we ran the Manchester 10k!"
Chris continued:
"After a year of working away a lot, and over indulging on beer and takeaways, another challenge is losing over two stone in order to complete the 26-mile run.
For me, this is the biggest challenge I've ever set out to complete, and what keeps me going is the determination to reach my target of £3,000 which will help keep CWUHA's amazing Phoenix Centre for disabled youngsters up and running in and also help finish the brand new library block that CWUHA is building at the Kilima Hewa School in Tanzania."
He concluded by saying:
"With CWUHA celebrating 20 years of helping the most vulnerable children across the world I wanted to do something challenging to help with its 2016 projects."
Apart from the school library and Phoenix Centre initiatives, this year the charity is setting out to deliver much-needed aid to Syrian refuges and two convoys to Moldova.
CWUHA Chairperson Carl Webb:
"In Moldova we'll be delivering over 50 tonnes of aid direct to vulnerable children and families and to a run-down hospital that has run out of basic medical supplies.
While we are out in Moldova this May we will also be sponsoring a football tournament for 11 to 13-year-olds from the surrounding villages – supplying kits, boots and equipment."
Carl concluded by appealing for support for CWUHA by saying:
"As ever, CWUHA is aiming to really make a difference by delivering aid direct to those who need it most – but it all takes money so, if you haven't already, please sponsor my lad.
He's paid the London Marathon entry fee out of his own pocket, as well as funding his own travel and hotel, so every penny donated goes directly to CWUHA."
You can visit the charity's website here: www.cwuha.org
To sponsor Chris, with 100% of your donation pledge goind to the charity, please visit
https://mydonate.bt.com/fundraisers/chriswebbcwuha
Chris's charity fundraising has won the full backing of Manchester City Council