In his letter to CWU branches with postal members (LTB28/2017) Deputy General Secretary (Postal) Terry Pullinger discusses the launch of the Union's latest campaign as a resultof serious concerns that Royal Mail is embarking on a disasterous path for it's pension scheme.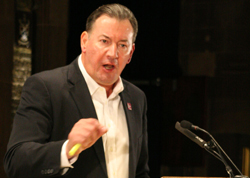 The campaign, entitled 'The Four Pillars Of Security' is detailed in the LTB, complete with a downloadable PDF document detailing the issues of concern.
Terry writes:
"You will be aware that Royal Mail has started a formal consultation on the future of the Defined Benefit Pension Scheme (RMPP) from March 2018.
As part of that process, the business has now provided every individual scheme member with an illustration of what the proposed changes will mean for their future pension provision.
In response, the CWU has sent a leaflet to every individual member's home address setting out the Union's case and the policies we are pursuing to secure a new agreement with Royal Mail based on four key 'Pillars of Security'."
Terry explains further:
"Since privatisation in 2012, the CWU has become increasingly concerned about the direction Royal Mail is taking and the degree of commitment to our mutual interest agreements.
Instead of a long term focus on investment and growth we have witnessed a short term focus on cutting costs to boost shareholder return.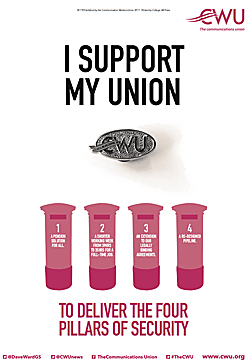 The company's recent 'dash for cash' has led to serious problems in the workplace around resourcing, growing intensification and pressure at work, as well as mounting concerns about the impact of automation, Royal Mail's growth agenda and the long term future of members' jobs, standard of living and retirement security."
The LTB then goes on to detail exactly what the CWU's "Pillars of Security" are:
"In the face of these challenges, the CWU believe the time has come to seek a new deal with Royal Mail. At the Policy Forum in March 2016, the Union agreed a clear set of policy priorities to secure members' long term interests. The four Pillars of Security are:
*
A lasting pension solution that delivers a decent wage in retirement for all members in both the DB and DC schemes;
*
An extension of all our current agreements and legal protections enshrined in the Agenda for Growth Agreement;
*
A 35 hour shorter working week to address growing pressures and intensification of work and improve members' health, well-being and work-life balance; and
*
A redesigned Royal Mail pipeline to secure the company's commercial future and deliver long term growth.
* A Decent Wage in Retirement"
The full LTB can be downloaded here and the PDF document detailing the 'new deal' with Royal Mail that the Union is seeking is available here
Source: CWU