Following the close of nominations today, several of our senior national officers have been re-elected unopposed.
The North West Region send their congratulations to the following individuals who have been re-elected to serve the union and its members for another 5 years.
Dave Ward General Secretary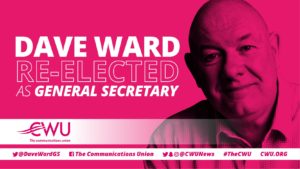 Dave Ward said: "Our members and representatives make the CWU a great union and to be elected as its leader for a second term is a huge privilege.
"Over the last five years we have worked together and the profile and influence of the CWU has been raised massively – industrially, within the TUC and also politically.
"Being re-elected with such tremendous support across the whole union is recognition of what we have achieved and a mandate for the direction we have set," Dave continued.
"This means strengthening further the fight to protect and enhance our members' jobs terms and conditions, and forging a new model of collectivism that will reassert trade union values across society and shape the future world of work.
"I am excited motivated and proud to lead this agenda – now let's get to work, we have disputes to win."
Terry Pullinger Deputy General Secretary (Postal)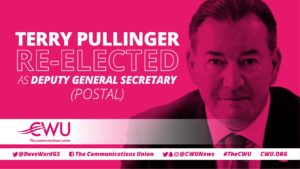 Terry Pullinger said that he was "so honoured and proud when I was elected DGSP five years ago, I never thought it could be topped.
"But being re-elected unopposed – and with so many nominations after the five years we've had is an unbelievable feeling.
"The strength of the activists and members is my strength and I feel stronger than ever today. Thank you," Terry concluded.
Sally Bridge National Officer T&FS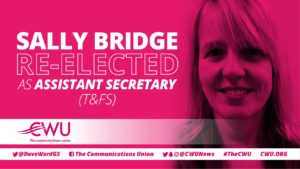 Sally said "I feel really proud to be re-elected as a national officer of the CWU," Sally said, adding: "There is much to do and difficult challenges ahead and I promise you I will do my very best to work as hard as it takes to protect the interests of the membership."
Dav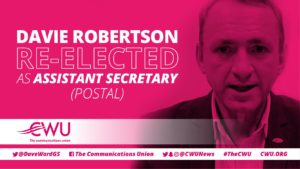 ie Robertson National Officer Postal
Davie said that it was "an honour to serve as an officer for another term.
"To receive so much support from all parts of the UK is truly humbling and I look forward to working and fighting for you over the coming period," he pledged.
Congratulations to all 👏
Posted: 20th February 2020