Dave Ward Urges Support For Mark Penfold: Edinburgh To London Charity Walk
Writing in letter to branches (LTB379/16) CWU's General Secretary, Dave Ward, is asking all CWU memebrs to support Mark on his fundraising walk to raise money for charity.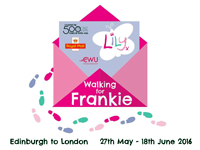 CWU member Mark Penfold set off at the end of May on an epic fundraising walk from Edinburgh to London – inspired by the plight of his sick grandson, Frankie who suffers from the life-limiting Mitochondrial Disease.
Mark hopes his Edinburgh to London hike will raise tens of thousands of pounds for research into the cruel genetic condition.

The walk, which follows one of the oldest postal routes in the UK, has been adopted by Royal Mail as one of its programmed events commemorating 500 years of the British Postal Service and the company has generously agreed to match everything Mark receives in sponsorship up to £20,000.
Mark is a postman from Burnham-on-Sea and a member of the Bristol and District Amal Branch. He was cheered off by colleagues from the Edinburgh's East Delivery Office on Friday 27th May as he began the 500-mile trek, during which he will be supported every inch of the way by a combined CWU and Royal Mail support team.
We understand that he has already raised pledges of well over £17,000.
All proceeds will go to The Lily Foundation, which is currently supporting pioneering research initiatives into Mitochondrial Disease in the hope that better treatments can be developed and a cure ultimately found.
The walk is planned to take three weeks, which means that Mark will cross Tower Bridge on 18th June 2016, finally finishing at London's Guildhall where he will join Royal Mail's 500th anniversary celebrations in the Capital.
Over the last few weeks, many CWU activists and members have walked alongside Mark and there have been some brilliant people who have volunteered to drive and resource the support vehicle. Many CWU members, Royal Mail employees and associates of the Lily Foundation have been out in force along the 500 mile route cheering Mark on. We are all very grateful for the support shown to him by everyone involved.
I would like to urge all branches to sponsor Mark Penfold in this amazing walk for charity – and you can do so by visiting www.sponsorme.co.uk/markpenfold
Any cheques should be made payable to "Charities Trust" (ensure you note it is for Mark Penfold – Lily Foundation) – and sent to:-
Gary Grange
Community Investment Manager
Royal Mail Group
100 Victoria Embankment
London
EC4Y 0HQ
You can follow Mark on twitter https://twitter.com/Walk4Frankie or Facebook https://www.facebook.com/walk4frankie
It would be really great if CWU members could come along to Guildhall Yard (London EC2V 7HH) at 12.00pm on Saturday 18th June 2016 – please see the attached Guildhall map and leaflet – to see Mark cross the finish line. We wish him all the very best.
Source: CWU