PROTEST AGAINST | CORRUPTION | CRONYISM | FIRE & REHIRE | PRIVATISATION OF THE NHS | LOW PAY |
PROTEST FOR | NEW DEAL FOR WORKERS | SAFER WORKPLACES | RIGHT TO FOOD | BETTER PUBLIC SERVICES |  
This year the Tory Party will be holding their annual conference in Manchester on 3 October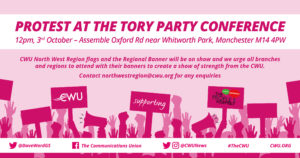 – 6 October and the People's Assembly, supported by Trade Unions, including the CWU, are holding a major national demonstration on Sunday 3rd October.  Details of the demonstration are set out below.
National Demonstration | Sunday 3rd October 2021
Assemble: 12 noon, Oxford Rd, near Whitworth Park, Manchester, M14 4PW   (Just look out for the large CWU balloons)
All Branches are urged to do all they can to attend this event and to encourage and assist as many of our members as possible to attend on the day.
The Union will be providing merchandise and flags for the event and Branches are also encouraged to bring their banners to create a show of strength from the CWU.
The CWU delegation will be led by the North West Region and for any further enquiries on the above, please contact Carl Webb North West Regional Secretary at northwestregion@cwu.org
06600 NW tory conference demo poster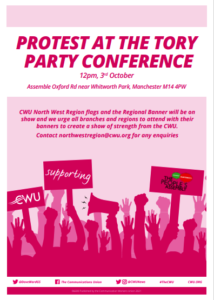 Posted: 22nd September 2021