Those who have followed Diane Abbott as she campaigns for Labour this general election, may well feel she has not been her usual self on occasions and has had to face real abuse from the media.
It now appears that Diane has a 'long term illness' which has taken it's toll and now she is currently recovering at home.
She has been temporarily replaced by Lyn Brown as Labour's shadow home secretary "for the period of her ill health", Jeremy Corbyn has announced.
Lyn Brown is the Labour candidate for West Ham and has served as the MP for the seat since 2005.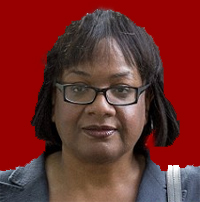 Ms Abbott had to pull out of an interview on BBC Radio 4's Woman's Hour yesterday morning and did not attend an election hustings organised by the Evening Standard yesterday evening.

Shadow International Trade Secretary Barry Gardiner was quoted by HuffPost UK:
"I have been told that Diane has been diagnosed with a serious, long-term condition.
I hope people will simply say 'OK, fair dos, if that's the reason she's been under par, we should back off'."
Hoping people will back-off from their cynical attacks on Diane, he has quickly seen that dashed as Tory minister, Priti Patel accused Labour of trying to keep Abbott off TV and radio.
She was quoted as saying, "Jeremy Corbyn wants to make Diane Abbott Home Secretary in just two days but is hiding her away from voters." when she heard Diane's illness had prevented her from attending the radio interview.
Source: HuffPost