CWU Equalities Calendar 2020-2021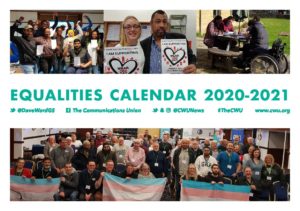 We are pleased to advise that the department has now produced the second Equality & Diversity Calendar which spans from April 2020 – April 2021.
Given the current climate, we have not been able to launch the calendar at Annual Conference as we had hoped, however, it is now available for Branches to download from the CWU website, using this link

Please note that you will only be able to print as separate pages but it can be sent to a local printer if you wish it to be printed in booklet format. Once the department is able to function properly, we will arrange for calendars to be circulated to those who request them.
Our thanks go to all the Regions/Branches/Committees that sponsored the calendar and hope that it will be helpful in diarising your events.
Any queries on this LTB should be directed to the Equality, Education & Development Department.