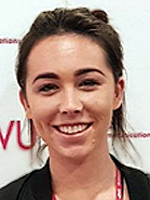 The CWU North West Region's Young Worker's Officer, Elli Long reports here on the major discussions which took place on the Union's communications from HQ and the future of the Union's organisation:
On Friday 10th November I went to the regional meeting which was held in the mechanics in Manchester.
Myself and Chris went on behalf of the regional young workers committee and Greg also come along with Karen.
Chris Webb- Comms department

We had 2 guest speakers, Chris Webb head of comms and Trish Lavelle head of education and training.
Firstly, Chris Webb spoke about the campaigns we have going on and the way forward the comms team want to go. He thanked all the reps and members for the four pillars campaign and said they didn't expect it to go as well as it has done and he would like to see the tell BT no campaign and the close the gap campaign to be on the same scale.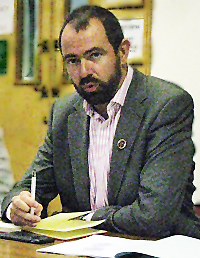 Chris said in around 2 weeks the CWU app should come into play and we have had a few people testing that out to see what its like. He also said that in around 2 weeks there will be a new young workers website. He mentioned that the comms team want the union to get involved in more social media such as Instagram and snapchat I think will be great for younger members. which
Chris then went on to say they are hoping to put a comms forum sometime in March 2018 which will help people to show how social media works and also a workshop on press.
Chris then put a question to us 'is the voice magazine still needed?' there was some people who said they rely on that to get their information as they don't use social media whereas I said I think with the younger workers we see most of our information on social media or the website and by the time the voice gets to our homes it's just full of old information we have already seen.
It was great to hear from Chris and the hard work the comms team put into all these amazing campaigns we have going on and long may that continue. It is nice to see the comms department doing new, modern exciting things to engage with not only our members but the public too.
Trish Lavelle- Education and training department
Then we heard from Trish she started with giving some interesting statistics.
41% of total active membership are 50 years old +
Number of branch secretary over 50 years old is 91 out of 133 branches
Throughout the membership only 9.25% are young members
Only 133 reps are age 18-24, that's 3.4% which is worrying
To hear these is extremely worrying because we are doing all things to keep the CWU strong and fighting but we need to remember we need young reps to come through who will eventually fill roles within the CWU in the future. Having only 3.4% of reps age 18-24 is simply not good enough and we need to help establish why this is the case and what we can do as a union to increase this.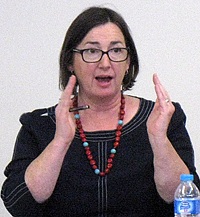 Trish then give us a presentation on re design. The subject got a lot of people talking and a few questions were asked if departments would be merging, Trish said it is still getting looked into by HQ at the moment but they do need to make cuts.
She said they are looking at merging regions and looking at the structure of the regions around the country and possibly reducing the number of regional committees that we have.
She said that they have put a VR programme in HQ as the cuts that will be made will be made from the top firstly. National executive is also looking at the CWU 3 assets, Alvescot lodge, HQ and the Elsted hotel. She said these 3 assets are worth a lot of money for the union and its looked into if we would be better off selling them and funding the money into other things. It was brought up that there should be a link between the NEC and regional level.
Trish said there will be a special conference next Autumn on the re-design.
Trish said we should plan for the union for the next 20 years not the 20 years before. 'Time for us to do things differently.'
Dan Lewis made a point that I totally agreed with and I'm sure a lot of younger reps would agree with to.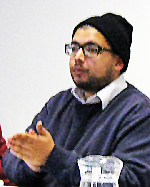 He mentioned digital meetings and the technology we have we no longer have to be in the same room, nor even the same city as others to be involved in a meeting with them as we have skype and things like conference calls.
Then he went on to say he has been put off going for NEC roles as HQ is in London 'if I am based in HQ I won't see my wife and I can't take my child to school.'
I am so glad Dan brought this up as with a lot of young members want to get more involved as we have the challenge of being up against someone who has been in the role in some cases longer than we have been alive but also being put off going for roles with having to move your life down to London at such a young age.
Maybe if things like this change in the redesign and we use modern technology to its advantage we can work around things like this and we will have a lot more than 3.4% of young reps in the CWU.

Other points
Karen thanked the North West regional young workers committee for inviting her along to our last meeting and our hospitality
Karen then mentioned the women of today event will take place on 25th January 2018
16th February the regional conference will take place in the mechanics
I think it was great to see how many advent calenders and selection boxes were brought along they were stacked high and filled a whole table. Thank you to Angela Teeling for setting it up to take them along to a charity who will then pass them on to children who might not get them. Great idea and well done to the regional officers.
Source: Pics: C.Ingram