That is the headline on this month's UnionLine magazine cover – although we must be vigilant, it continues.
Linking such optimism on the general election results, virtually a hung Parliament if it were not for the £1 billion bribe to the DUP; the Union's legal advice line editorial may make some think they are in a parallel universe.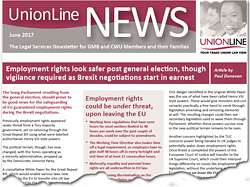 Few believe that the Tories hold onto power will falter at some stage prior to the final Brexit talks agreement, but many too feel that at least we now have some hope.
However, given May's stance for a 'hard Brexit' and leaving the customs union as well as the single market, and her meetings with world leaders at the G20 summit in Hamburg and aligning the UK with USA on climate change by not mentioning it at all at this summit; it is clear May will make a trade deal with anyone at ANY cost!
Indeed without a hard Brexit, the Tories can't scrap workers rights and the EU based health and safety protections, as they wish to do so.
In the meantime, take a look at the latest edition of UnionLine News and read up on the legal side opinion from the Union's legal advisors, not to mention that of several Trade Union's allied with UnionLine to bring a legal service to our members, free of cost to them.
This month deals with, of course Worker's Rights in the current climate of risk to them and Transgender Discrimination
in the Workplace; along with an article on the fact that UK workers are cheated out of at least £1.5bn a year in holiday pay.
You can download a PDF format copy right now by clicking on the pic above.
Source: UnionLine