Don't betray loyal Bury staff, Capita told
Friday 4th June 2021
Intensive pressure is mounting on Capita to deliver genuine options for loyal employees in Bury following last week's shock announcement that their call centre is earmarked for closure in September.
Last Friday, a hastily convened CWU protest took place outside the former Telefonica O2 site in Radcliffe, which for many years has been one of two centres dealing with the outsourced contact centre services provider's Tesco Mobile contract, with the later addition of work associated Capita's TV Licensing contract.
While Capita continues to deny the closure of the Bury site constitutes a redundancy exercise, the CWU believes that scores of employees will be inevitably be placed 'at risk' under company's proposals which include:
Ill-conceived company attempts to insist that displaced employees can transfer to the company's Preston Brook site – a full 70 mile round trip from Bury for which there are no good public transport links and a notoriously difficult journey by car, especially in peak times. However, there are a number of employees who don't live in Bury, but in locations that mean Preston Brook is viable.
A 150 headcount reduction on the Capita Tesco Mobile (CTM) account (including managers) even after the workstream has been concentrated on Preston Brook
A stipulation that 75% of the remaining 431-strong workforce, most of whom are currently working at home, will be expected to return to the office post-Covid pandemic – making the prospects for displaced Bury workers even more precarious. Capita have said that they are continuing to review this distribution.
Capita's insistence that, even where redeployment opportunities exist to other contracts within the Capita business that allow for homeworking, parity of pay, terms and conditions and role similarity cannot be guaranteed for a small number of redeployment scenarios.
Responding to intensive questioning by the union, Capita has issued the following statement: "We have been working closely with the unions throughout the process and are operating within the parameters of the TMCP redeployment agreement which the CWU signed and agreed to. Any redeployment opportunities will be agreed within the TMCP & CWU redeployment principles. Capita expect for Preston Brook to be the hub for the Tesco Mobile Capita Partnership from September 2021. We want to bring the majority of colleagues together to positively influence engagement, productivity and team performance. The Tesco Mobile Capita Partnership transformation programme is considerable and includes the introduction of new technologies and a colleague development programme. It is the intention that all managers will work from the Preston Brook site to successfully lead the transformation."
CWU national officer for the union's telecoms and financial services membership in Capita, Brendan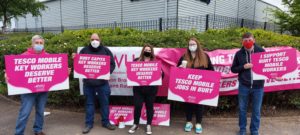 O'Brien, stresses that the union's priority at a difficult time for members across the Tesco Mobile account is to secure the widest possible range of genuine redeployment options for displaced staff.
"We're also intent on ensuring absolute fairness in the selection procedure for comparatively scarce homeworking opportunities on the contract, and an increase in the number of homeworking roles the company is currently envisaging," Brendan continues.
"Several meetings have already taken place with management in which members' interests have been forcefully represented by Nadeem Khan of the union's Preston Brook & Bury branch – himself the Tesco Mobile rep at Bury.
"Counter-proposals have been presented that the Bury building remains open, or a new smaller office is found in the locality, but both these options have been categorically rejected.
"Management insist the decision has been taken as part of the organisation's new strategy announced earlier in the year, and the company's desire to reduce its estate and adopt a more hybrid working model. But that won't stop the CWU from demanding genuine options for members who are naturally incensed at the way they are being rewarded for their hard work and loyalty over many years."
Capita's beleaguered Bury workforce has already received the unequivocal backing of Greater Manchester Mayor Andy Burnham and Bury Council leader Eamonn O'Brien – with the latter attending last Friday's spirited CWU protest in person.
"Bury Labour stands in solidarity wi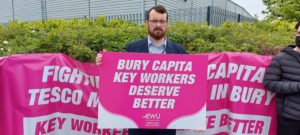 th employees at Capita's Bury call centre, Cllr O'Brien insisted. "I'm in full support of the proposals put forward by the Communication Workers
 Union to retain these jobs in Bury by allowing employees to continue working from home where appropriate and looking for an alternative site in Bury to keep these jobs in our borough. "The Council is ready to engage with Capita about how we can help explore these proposals."
Andy Burnham added: "These key workers, who have worked tirelessly throughout the pandemic helping to keep the country connected, deserve better and I would urge both Tesco Mobile and Capita to work constructively with the local council and the CWU to find a solution that benefits all stakeholders."
CWU North West regional secretary Carl Webb concludes: "Capita's decision to close down this call centre truly beggars belief.
"These workers have built up this brand from the bottom up – and to treat these key workers like this, after their year of bravely keeping the country connected, is astonishing. There won't be any doubt that the CWU will stand in solidarity with its members and will be resolute in supporting a better proposal than what the company are currently offering.
Further casualties of Capita's Bury closure announcement include 19 14forty (Compass Group) employees on the Capita contract involved in catering and facilities (security and cleaning) duties. The Bury closure bombshell has also impacted on pay negotiations for Tesco Mobile contract employees, with the CWU now pressing the case for a cash lump sum rather than a percentage-based increase on account of employment uncertainty within the account.