Terry Pullinger speaks to all Postal Members via video with details of the campaign and applauds all those members who have voluntarily signed the petition to Royal Mail which puts paid to the claims they have made about CWU members responses to them supporting their stance on the issues.
Clearly CWU members are NOT backing the employer, but ARE backing their trade union; simply because they have no trust in the management and trust their Trade Union fully on the issues encompassed by the Four Pillars campaign.
You can watch Terry's report in the video here
Whilst Royal Mail are in the process of sending their employers SMS messages and post cards to their homes denigrating the CWU stance, the message to them from CWU Youth in the North West is quite clear: "In the bin goes your postcard!"
This is their unequivocal Twitter response: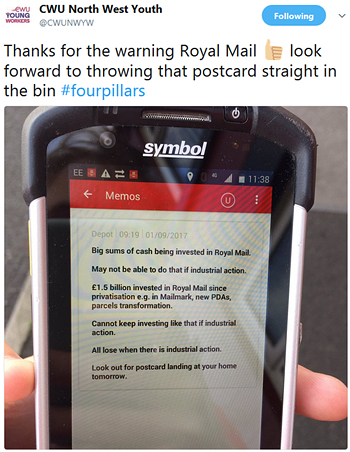 Whilst Royal Mail senior managers are concerned about industrial action as indicated ion their SMS message to their employees via the company's PDAs issued to all staff, the answerer to their problem is simple: get round the negotiating table directly with the CWU rather than sending your minions who seem incapable of making any true and binding agreements with the Union and its employees!
Negotiating in good faith is the act of a modern and forward thinking employee, rather than throwing flames on the fire by bombarding employees with PDA messages and postcards to their homes.
Exercises in the intimidation of CWU postal members has never worked in the past and it will not work now!
Writing in The Huffington Post on Wednesday (30th August) in the final week before the Union's deadline to royal Mail, General Secretary, Dave Ward made it perfectly clear as to the outcome if RM Group senior managers continue with their refusal to meaningfully negotiate directly with the CWU:
"This week the CWU is in the final days of talks with Royal Mail management aimed at securing an agreement to avoid a major national industrial dispute. Unless Royal Mail significantly shift their position on pensions, pay, shorter working hours and its operational strategy, then CWU will ballot our members for industrial action in early September."
He then reminds RM Group that it is not the threat of industrial action that is a problem with regard to having the finances to invest in the business and it's employees, but those of the shareholders and demands put on it by successive Governments:
"Firstly, there's the privatisation of Royal Mail. Far from bringing in investment as we were promised this has sucked money out of the company. In just three and a half years, Royal Mail has paid out £770m in dividends to private shareholders.
By April next year, when Royal Mail is planning to slash the pension entitlements of 90,000 postal workers on the grounds of affordability, this will be on course to exceed £1bn."
You can read Dave's full article here

Source: CWU / Huffington Post