Time To Choose Your Side, says CWU National Officer Davie Robertson in a special video message to all CWU members employed by Parcelforce.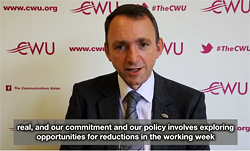 In his message Davie makes it clear that the campaign by the Union entitled, The Four Pillars of Security; has everything to do with the working lives of our Parcelforce colleagues as it does for the whole of the Union's membership working for Royal Mail.
Since privatisation in 2012, the CWU has become increasingly concerned about the direction Royal Mail is taking and the degree of commitment to our mutual interest agreements. Instead of a long term focus on investment and growth we have witnessed a short term focus on cutting costs to boost shareholder return.
The company's recent 'dash for cash' has led to serious problems in the workplace around resourcing, growing intensification and pressure at work, as well as mounting concerns about the impact of automation, Royal Mail's growth agenda and the long term future of members' jobs, standard of living and retirement security.
In the face of these challenges, the CWU believe the time has come to seek a new deal with Royal Mail. At the Policy Forum in March 2016, the Union agreed a clear set of policy priorities to secure members' long term interests. The four Pillars of Security are:
* A lasting pension solution that delivers a decent wage in retirement for all members in both the DB and DC schemes;
* An extension of all our current agreements and legal protections enshrined in the Agenda for Growth Agreement;
* A 35 hour shorter working week to address growing pressures and intensification of work and improve members' health, well-being and work-life balance; and
* A redesigned Royal Mail pipeline to secure the company's commercial future and deliver long term growth.
* A Decent Wage in Retirement
Davie's video message can be watched here
Read more about the CWU Four Pillars Of Security Campaign here
Source: CWU