University student Sophia Khan took to the centre stage at Jeremy Corbyn's rally this evening in Birmingham with a message of understanding and togetherness between young and old, in answer to Tory policies of division setting one generation against another.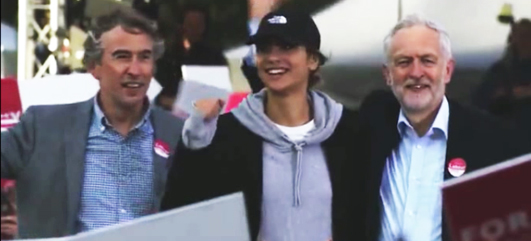 In front of a crowd of an estimated 1,500 people, Steve Coogan introduced 18 year old Sophia Khan who gave a speech outlining Labour's polices, before introducing the Labour leader Jeremy Corbyn to an audience consisting of young and old, of several generations and of male and female gathered togather in hope.
She told the crowd that she is a first time voter and she will be voting Labour. As a student in September she will build up debts of up to £25,000. Debts that her generation will find very hard to repay.
She told the crowd, "Why should the genration that has built up this country and worked all their lives and paid their taxes; have money taken away from them by a Tory government?"
She reminded the young in the audience: "We reject the idea that we should set one generation against the other. But you need to vote on Thursday. Don't let the Tories pit the young against the old."
This is the time for the young and old to stand together and vote for a Labour government on Thursday, she told a cherring crowd.
Here you can watch her speech:
Source: Labour Party