This week is the CWU and Royal Mail sponsored Dog Awareness Week.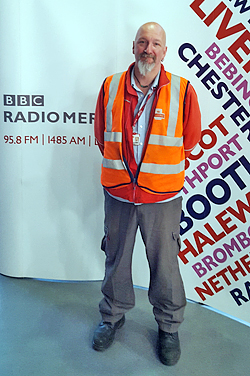 In order to highlight the issue of dangerous dogs and the fact that over 14,000 incidents of dog attacks on our postwomen and postmen occur every year, one of the Branch members from Greater Mersey Amal (Grt Mersey and S West Lancs Amal) went to BBC Radio Merseyside studios to share his experience, and the aftermath, of being bitten by a dog whilst delivering mail on his usual round.
Geoff Highton from Upton Delivery Office on the Wirral, was accompanied to the radio station in Liverpool by Branch Safety Rep, Jamie McGovern.
Geoff has been a postman for 17 years and until last year, was lucky enough to have never been attacked, let alone bitten by a dog before.
He was the first postal worker to help secure a police prosecution in the North West under the amended dangerous dogs act of 2016.
Speaking on Tony Snell's breakfast show this morning at 7 am, Geoff explained just what had happened to him when a dog attacked him without any warning, not even barking at him. It left Geoff with not only physical scars, but mental health issues too.
Royal Mail Group Global Director of Safety, Health, Wellbeing & Sustainability, Dr Shaun Davis, joined Geoff to discuss the issue and to explain what the Dog Awareness Week is all about.
Here is the radio interview:
Source: Jamie McGovern / BBC Radio Merseyside / C Ingram
See also: Dog Awareness Week details on the Unionsafety website here