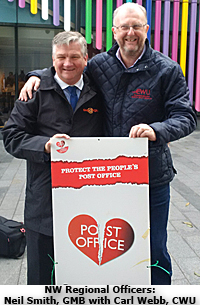 The strike was solid on Merseyside and we were joined by CWU retired members, GMB members and the media inc Liverpool Echo and BBC Radio Merseyside. So plenty of publicity. Many Labour NW MPs, MEPs and Cllrs tweeted their support, including Labour's Metro Mayoral candidate Steve Rotheram MP.
The Liverpool Echo covered the strike in Liverpool with the headline of 'Why Post Office Staff Marched Through Town In Halloween Costumes Today', and a sub-heading of 'What might happen to your Christmas post is the really scary part'!
It's report said;
Striking postal workers marched through the city centre in Halloween costumes this morning over cutbacks to jobs, branches and pensions.
Employees dressed as witches and the Grim Reaper in protest at the decline of government-run Post Office branches, with several closing or outsourced on Merseyside over the past decade.
Christmas post could be thrown into chaos this year if the row continues, with unions considering further strike action in the run-up to the festive period.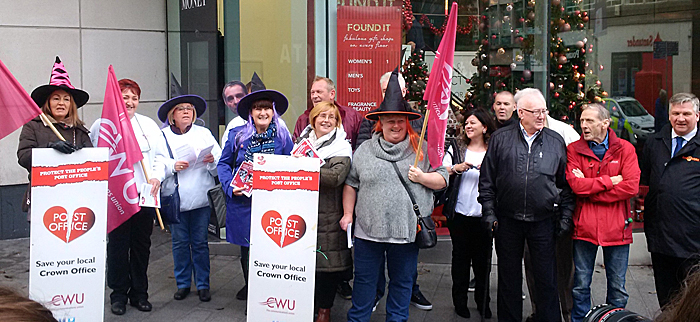 The article continued:
The strike comes after a similar walkout in September , which saw several Post Offices closed and picket lines set up outside.
Neil Barry, north west rep for the CWU, said:
"Every week we hear reports of franchising, with offices shoved into the back of shops – it's an inferior service.
We want to make the people of Liverpool aware of the [government-run] crown offices – there were about 40 once, and now there are only around 10.
It's also about job security and the attack on the pension scheme, as we have seen jobs slashed over the past few years.
This strike is to get the Post Office to sit down and talk to us. If they don't there is the possibility of strike action, potentially putting Christmas services at risk – the last thing we want to do."

Whilst the article said that Post Office management claimed they are responding to customer needs, the evidence is to the contrary, with many communities being left without local Post Offices and Crown Offices almost an endangered species.
Source: Carl Webb / Liverpool Echo