CWU's deputy general secretary (telecoms) Andy Kerr has issued a strongly worded defence of the continued full integration of Openreach within BT Group today, with a hard-hitting 10-point rebuttal to the joint call for separation by the bosses of Sky, Talk Talk and Vodafone UK.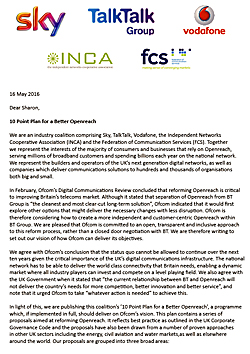 In their public letter (pictured right) to the Ofcom chief executive Sharon White, Jeremy Darroch (Sky), Baroness Harding (Talk Talk) and Jeroen Hoencamp (Vodafone UK) urged the regulator to recommend the splitting up of BT, claiming that separation was "crucial to the improved digital connectivity Britain needs." Click the image to download and read their letter.
But Andy, has taken apart their "10-point plan" with a detailed 10-point rebuttal, in which he explains how breaking up BT would "restrict broadband coverage and undermine quality of service improvements."
"There is no evidence to suggest that Sky, Talk Talk, Vodafone UK, and indeed any other telecoms provider, will commit anywhere near the required levels of investment to deliver a world class network right across the country," he points out.
The controversy sparked by the three competitor company chiefs is aimed at putting pressure on Ofcom to recommend the splitting up of BT in its report, which is expected at the end of this month.
If separation is recommended by the regulator, the CWU is committed to "push the button" on a determined national campaign, both politically and industrially, to stop the breaking up of BT.
Dowload and read Andy Kerr's 10-point rebuttal here
Source: CWU